Donald Rumsfeld is a Tech Bro Now and Gave Tapper a Full Demo of His New App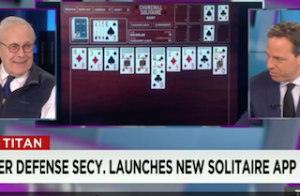 Today, former Secretary of Defense Donald Rumsfeld stopped by CNN to appear on The Lead with Jake Tapper. Sure, he talked about weapons of mass destruction and what the future of fighting terrorism looks like, but toward the end of the segment, he got to the really important stuff: Rumsfeld gave Jake Tapper a demo of his new mobile gaming app.
"You'll get there" – @RumsfeldOffice encourages @jaketapper to master his new app., @PlayChurchill https://t.co/chJaRstWne

— The Lead CNN (@TheLeadCNN) January 26, 2016

Called "Churchill Solitaire," the game is a version of the famous one-player time-waster that involves two full decks of cards. Judging by Rumsfeld's facial expressions during his time talking to Tapper, he really loves this app, which he designed to mirror a game favored by Winston Churchill himself, so you can imagine how complex the strategy involved is.
Tapper introduced the segment by announcing that Churchill Solitaire is the sixth most downloaded app in the iTunes store this week. Rumsfeld chuckled, then compared his game to regular solitaire, noting that this one is "vastly more complex."
This is as disarmingly sweet as President George W. Bush's delayed-onset passion for painting. Seeing someone excited about a new venture is endearing, no matter how you feel about their politics. Seriously, look at this tweet sent out from the 83-year-old's Twitter account:
Sir Winston's diabolical game of solitaire is here. Follow @PlayChurchill & like on Facebook https://t.co/iHtLZTYpCJpic.twitter.com/MvApWY9M8r

— Donald Rumsfeld (@RumsfeldOffice) January 24, 2016
Following his stint on The Lead, Rumsfeld also retweeted Tapper's video, adding a sweet comment: "[Tapper] strikes me as educable. I know he can beat [Churchill Solitaire]." 
You go, Donald Rumsfeld. Live your dreams. Develop best-selling apps. The world is your digital oyster.
[image via screengrab]
For more from Lindsey, follow her on Twitter. 
Have a tip we should know? tips@mediaite.com