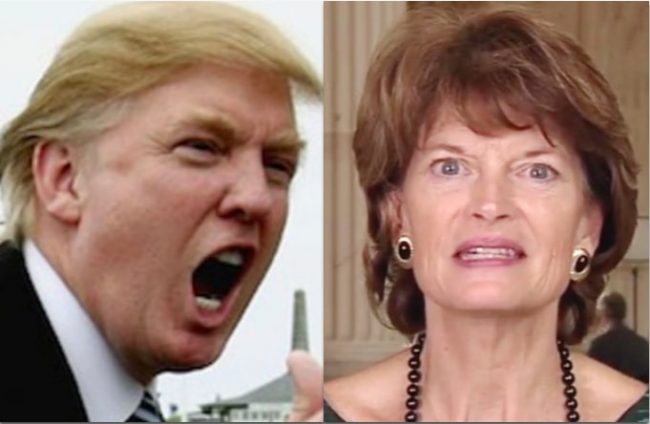 Donald Trump claimed a small victory Tuesday afternoon when the Senate voted for a motion to proceed to debate on the widely unpopular Senate plan to replace Obamacare.
The final tally of 51-50 only came to pass with an assist from Vice-President Mike Pence. The knifes edge vote was caused by GOP defections from Sen. Susan Collins (R-ME) and Sen. Lisa Murkowski (R-AK)
On Wednesday, Trump took out the knife for Murkowski on Twitter, tagging her and saying she had "let the Republicans, and our country down."
Senator @lisamurkowski of the Great State of Alaska really let the Republicans, and our country, down yesterday. Too bad!

— Donald J. Trump (@realDonaldTrump) July 26, 2017
The tweet represented the continuation of an ongoing assault which began yesterday.
During a press conference yesterday with Lebanese Prime Minister Saad Hariri, Trump lambasted both Collins and Murkowski for jumping ship.
"Very sad, I think. Very, very sad — for them," he told reporters at the White House.
Trump on Murkowski and Collins voting no on motion to proceed: "Very sad, I think. Very, very sad — for them." pic.twitter.com/7Deiyszzdd

— Dan Diamond (@ddiamond) July 25, 2017
The victory on the procedural vote, was darkened after the bill and several amendments were voted down by Senators by a wide margin. With objections percolating from both the moderate and conservative ends of the GOP Senate caucus, the path to victory on a final bill remains as perilous as ever.
Murkowski is popular in Alaska, even winning an absurdly improbable write-in campaign in 2010, so she is likely to be unswayed by Trumps ire.
[image via screengrab]
Have a tip we should know? tips@mediaite.com