Donald Trump On NYC Mosque: Imam Should Sell For A 'Little Profit' And Move Location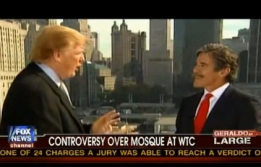 Eventually, once all the furor dies down, whether the proposed Lower Manhattan mosque gets built will come down to New York real estate laws and conventions. As Politico pointed out the other day, where those are concerned it does not look good for the folks behind the Cordoba Initiative.
Last night Geraldo asked "the world's most famous real estate guy," namely Donald Trump, to "dissect the deal." After talking about the buying price of the building versus the proposed selling price (it's a bit unclear whether Trump is referring to the estimated price Con-ed may sell the 2nd building to the Initiative for, which is reportedly between $10-$20 million) Trump says he thinks the location should be moved due to its insensitivity.
Says Trump: "Hey we're all for freedom of religion and all of that, but this is a very tough situation….and yes, if he moved a certain distance away, no one could say he didn't do a great favor to everybody, including himself and including his religion." Trump also thinks if they could sell for a little bit of a profit and move the location he would make so many friends and "turn this into a real positive." Presumably, The Donald means the initiative would make New York real estate friends, something he is reportedly lacking for reasons other than politics, and something many people in the business say would be necessary to complete a project of this size regardless of its whereabouts in the city.
Alas, the Donald did not provide any insight as to why, nine years on, Ground Zero still remains in the early stages of construction. Watch below.
Have a tip we should know? tips@mediaite.com