Donors Embrace 'Triage': To Save the Senate, Dems Give Up Retaking the House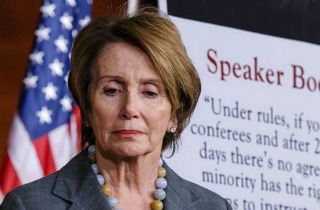 Speaking at an event sponsored by POLITICO this week, Democratic National Committee Chairwoman Rep. Debbie Wasserman Schultz (D-FL) said that she cannot "confidently predict" that the Democratic Party would retake control of the lower chamber in Congress in 2014. That's committee chair speak for "That ship has sailed."
Given the nature of a six-year midterm election cycle, which almost always favors the party out of power, and the fact that decennial reapportionment disproportionately favored Republicans, analysts have said for months that Democrats were unlikely to retake the House this year. Speaking with POLITICO reporters on Wednesday, however, Democratic donors not only confirmed that they have given up on committing funds to House Democratic incumbents and challengers, they are squarely focused on the increasingly pressing threat to the Democratic Party's Senate majority.
"With only so much money to go around in an election year that is tilting the GOP's way, Democrats need to concentrate resources on preserving the chamber they have now," POLITICO's Alex Isenstadt reported. "The triage idea is taking hold in phone conversations among donors and in strategy sessions between party operatives."
"Even some of the people who have invested the most to get House Minority Leader Nancy Pelosi back into the speaker's chair are moving in that direction," the report continued.
RELATED: Poll: GOP Takes Lead Over Dems on Generic Congressional Ballot
One donor who spoke to POLITICO noted that, without a major controversy engulfing the House Republican leadership, voters are unlikely to be predisposed to turn out to vote out the GOP majority. With that in mind, donors are closing their wallets to House Democrats.
Win McCormack, a high-dollar donor and publisher of Tin House magazine, made it clear to POLITICO that he is fully embracing the triage strategy. ""Democratic donors such as myself are likely — I would say certain — to increasingly shift their attention and resources to Senate races," McCormack wrote in a statement to POLITICO.
Polling this far out of an election cycle is spotty and more likely to mislead political observers than to inform them on the state of the electoral environment. For now, monitoring early indicators like the donor class is the best way to tell which way the wind is blowing. Presently, the signs suggest that those winds are blowing steadily in the face of Democrats.
[Photo via J. Scott Applewhite/AP]
— —
> >Follow Noah Rothman (@NoahCRothman) on Twitter
Have a tip we should know? tips@mediaite.com