'Drink As Much as You Can': Twitter Survives Trump's 80 Minute State of the Union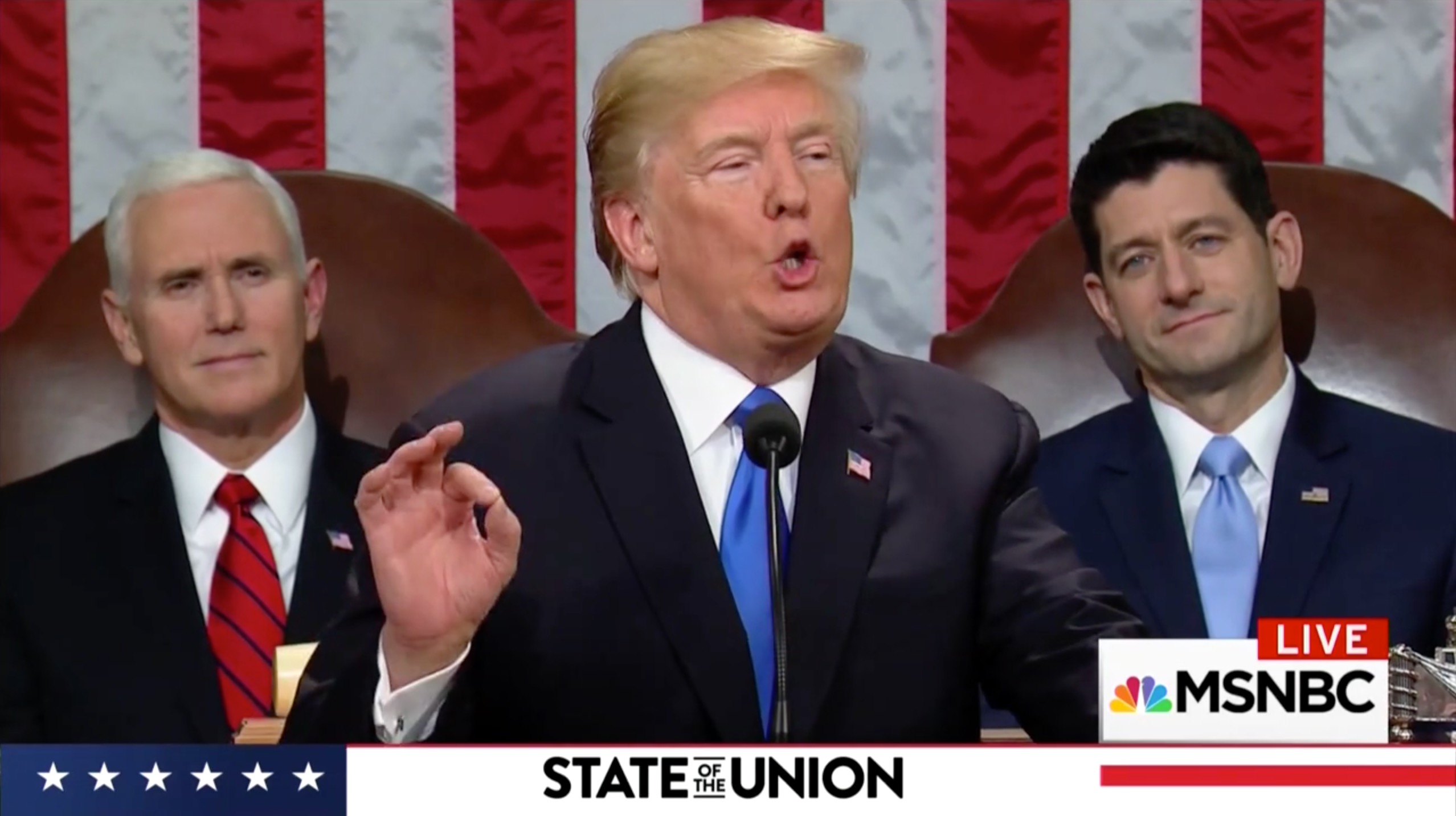 All eyes were on President Donald Trump's State of the Union speech — which touched on topics from immigration to the economy and national security — and captivated Twitter on Tuesday night.
And that's not hyperbole — Trump's speech was actually the must tweeted SOTU ever, I assume because President Obama was just not as meme-worthy.
Twitter: With 4.5M Tweets, tonight's speech was the most Tweeted #SOTU or #JointSession address ever, surpassing last year's record of 3 million Tweets.

— Zeke Miller (@ZekeJMiller) January 31, 2018
The speech, which to the dismay of the usual bomb-throwers was light on Trumpian surprises and heavy on conventional rhetoric, lasted a lengthy hour and twenty minutes. And the marathon was not lost on cranky internet commentators.
Some made up drinking games, others mocked policy points, and Bill O'Reilly got a little weird. Check out some reactions below.
It's actually hurting my ears the way Donald Trump is clapping for himself.

— Olivia Nuzzi (@Olivianuzzi) January 31, 2018
This speech may set a modern record for most interruptions for applause.

It may be only the @GOP side, but they're applauding everything. #SOTU

— Frank Luntz (@FrankLuntz) January 31, 2018
Now he's going off the tracks with "paid family leave."

— Ann Coulter (@AnnCoulter) January 31, 2018
GREAT SPEECH. Beautifully delivered. I think he's covered everything. Look for the exit signs, start proceeding directly to them.

— Ann Coulter (@AnnCoulter) January 31, 2018
"And here's another person who triumphed over the kind of adversity I would have folded in the face of in three seconds." #SOTU

— Patton Oswalt (@pattonoswalt) January 31, 2018
I work in the coal industry. Very little has changed.

— Ken Bone (@kenbone18) January 31, 2018
This is upsetting in every direction.

— Chris Hayes (@chrislhayes) January 31, 2018
Me, pondering the fact that Trump isn't done speaking and I have to be up at 4:30 am tomorrow pic.twitter.com/IWQXCd1Xea

— Chris Cillizza (@CillizzaCNN) January 31, 2018
Sign of the times. pic.twitter.com/yuIaTxiUCP

— Jim Roberts (@nycjim) January 31, 2018
I wrote a State of the Union drinking game for many years.

For this year, the game, such that it is, only has one rule: Drink. As much as you can.

— State of the Suderman (@petersuderman) January 31, 2018
Trump asking for unity now is like an Uber driver asking for a 5-Star rating after he's already crashed into a telephone pole. #SOTU

— Late Night with Seth Meyers (@LateNightSeth) January 31, 2018
Someday, a president will liberate us by delivering a 20-minute SOTU that makes the case on a single important issue.

— Jon Favreau (@jonfavs) January 31, 2018
Ever since I noticed this little guy I can't see anything else pic.twitter.com/HJ9Hx0sB1t

— Ashley Feinberg (@ashleyfeinberg) January 31, 2018
Ben Carson has the best hands in the room. Any room he is ever in, in fact. Claps like he is praying.

— michaelscherer (@michaelscherer) January 31, 2018
Tonight Trump became Reagan

— Comfortably Smug (@ComfortablySmug) January 31, 2018
Starting to feel like the last third of a karaoke rendition of Bohemian Rhapsody

— Chris Hayes (@chrislhayes) January 31, 2018
who's going to be the first pundit tonight to call this the "pivot"?

— T. Becket Adams (@BecketAdams) January 31, 2018
Trump called out human rights and rogue regimes of Iran, Venezuela, Cuba, and North Korea, but not Putin's Russia, the only one that has actually attacked the United States.

— Garry Kasparov (@Kasparov63) January 31, 2018
The now-unemployed O'Reilly live tweeted throughout the speech, mainly to make weird observations about the people in attendance:
Nancy Pelosi looks like she's sitting on a nail.

— Bill O'Reilly (@BillOReilly) January 31, 2018
The camera just found Congresswoman Pelosi again.

Looks like there's something wrong with her dentures.

— Bill O'Reilly (@BillOReilly) January 31, 2018
Who is paler, Paul Ryan or Mike Pence?

— Bill O'Reilly (@BillOReilly) January 31, 2018
Bernie Sanders may nod out. Three to one odds.

— Bill O'Reilly (@BillOReilly) January 31, 2018
And to conclude…
Guys none of this matters just have a drink and make jokes

— Seth Mandel (@SethAMandel) January 31, 2018
Have a tip we should know? tips@mediaite.com
Aidan McLaughlin - Editor in Chief