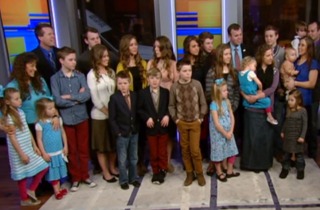 Poor Rick Santorum. He's had a rough start to his presidential courtship and he hasn't even announced yet: First, at CPAC, he was stiffed by a room full of Rand Paul fans who exited upon his podium entrance; and then on Tuesday afternoon, he lost two of his most prominent cultural supporters from the 2012 primaries.
As Business Insider first reported, Jim Bob and Michelle Duggar, the social conservative icons whose enormous family star in the TLC reality series 19 Kids and Counting, have endorsed former Arkansas Gov. Mike Huckabee's bid for the presidency on the very afternoon he announced. The couple famously supported Santorum in his 2012 bid.
When Huckabee announced his candidacy, the Duggars publicly supported him on the campaign website's "I Like Mike" page. The former Fox News host is a "man of faith who is very wise," wrote Michelle. "He will help get our national back on track.
"America needs Governor Huckabee for president!" Jim Bob said. "Governor Huckabee has the communication skills of Ronald Reagan, and a common sense business approach to government."
So where does that leave the former U.S. Senator from Pennsylvania?
Well, the Duggars endorsed Huckabee in his 2008 bid; and, according to Business Insider, they "bugged" the former governor to run again in 2012, but ultimately "settled" on Santorum when their pleas were denied. So maybe Santorum was always their number-two?
The Duggars were not immediately available for comment on whether they'd also support Santorum if (more like when) he decides to run for president in the same field as Huckabee.
[Image via Fox News/screengrab]
— —
>> Follow Andrew Kirell (@AndrewKirell) on Twitter
Have a tip we should know? tips@mediaite.com