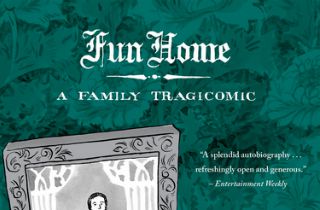 Religious students at Duke University are publicly protesting the summer assignment to read LGBT-themed graphic novel Fun Home.
Some incoming freshmen objected to the book's content, which includes strong themes of sexual orientation and what one student called "graphic visual depictions of sexuality," saying they didn't want to subject themselves to something that would compromise their religious points of view.
The graphic novel was written by Alison Bechdel (known for the feminist movie critique known as the Bechdel test), and tells the tale of family drama as the author's father is wrestling with his closeted homosexuality.
Freshman Brian Grasso even went so far as to write an op-ed for The Washington Post explaining that he couldn't bring himself to read a book with "cartoon drawings of a woman masturbating and multiple women engaging in oral sex."
He explains he's not opposed to reading LGBT-themed books, it's just that "in the Bible, Jesus forbids his followers from exposing themselves to anything pornographic."
Grasso elaborates:
I'm well aware that my ethics make me an anomaly on campus, in contemporary culture and even among many professing Christians. However, my principles come primarily from my understanding of the Bible, which I have read multiple times, studied weekly in community for the last seven years, and consider to be the Word of God…

Cultural pluralism will lose its value if students aren't allowed to follow their beliefs, even if they are conservative. Without genuine diversity, intellectual dialogue and growth are stifled.
And in case you're wondering, yes, Fun Home has faced censorship issues for its contents from other schools across the country.
[h/t USA Today]
[image via Mariner Books]
— —
Follow Josh Feldman on Twitter: @feldmaniac
Have a tip we should know? tips@mediaite.com
Josh Feldman - Senior Editor