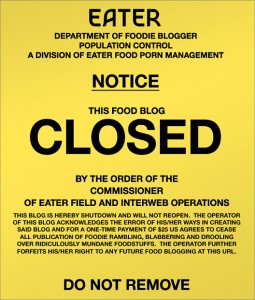 Yesterday Eater, Lockhart Steele's Curbed Media food blog, expanded its reach with the launch of a national site, Eater National. And, in order to make coast-to-coast domination a little easier, the site is paying anybody with a food blog $25 to hang it up and post an Eater ad (left) as their final piece of content.
From Eater:
Given that the internet is about 1,000,000 cutesy food blogs too vast, for a limited time only, Eater is offering $25 to any food blogger who will agree to shut his or her food blog down (and post this yellow notice on the site). What better a way is there to mark this glorious day than with a special offer! Answer: There is no better way. Ladies and gentlemen, You're welcome.
A little smug, right? And we sure hope that Eater isn't ready to spend 'about' $25 mil. to somehow buy the internet and winnow down the competition. Alas, there's fine print at the bottom:
This offer good while supplies last, limited to the first 25 respondents! Prominent posting of yellow Notice required for payment. No blog newer than 1 month old is eligible for shutdown. If you can show evidence of multiple posts about toast, fruit cake or grilled cheese, we might even pay you $30. Affiliates and family members of Eater staff do not qualify, as you should have known better in the first place.
So the buyout ploy is a little bit more reasonable upon closer inspection. If the site can actually get 25 or so well-read food blogs to close and post the ad, then that should create a nice bit of buzz for their nationwide project. But why launch on a Friday?
After day 1, Eater is reporting one successful buyout.
Have a tip we should know? tips@mediaite.com