Edward Snowden To Join The Ranks Of Martin Luther King, Nelson Mandela, And Dalai Lama?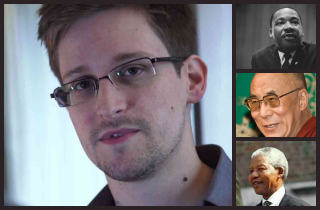 What do Barack Obama and Edward Snowden have in common?
Potentially, as of next year, both may be proud owners of a Nobel Peace Prize.
A sociology professor at Umea University in northern Sweden has just submitted an open letter to Norway's Nobel Prize Committee nominating the controversial fugitive for the same award that illustrious persons like President Obama, Martin Luther King Jr., Mother Teresa, and Nelson Mandela have been granted over the years.
In the letter, published July 13 in the Swedish Västerbottens-Kuriren newspaper, professor Stefan Svallfors asserts that "Edward Snowden has helped to make the world a little bit better and safer" through his "heroic efforts" to reveal the large scale surveillance program known as PRISM. In addition, he cites the 2009 Prize President Obama was awarded as a "hasty and ill-conceived decision" and that granting the honor to the former contractor will help rebuild the Nobel organization's reputation worldwide.
If that wasn't enough, Svallfors continues on, saying  Snowden's whistleblowing example is important because "since the Nuremberg trials in 1945 has been clear that the slogan 'I was just following orders' is never…an excuse" for actions agains humanity. However, the sociology professor, though qualified to make nominations to the prize committee, has neglected to examine the fine print–considerations for this year's prize must be postmarked on or prior to February 1 if they are to be considered, and that deadline has long since passed. However, the nomination will most likely be considered with all due diligence for the 2014 cycle of the Nobel Prizes.
At that time, the committee will undoubtedly examine whether Snowden's actions comport with the criteria for the Peace Prize: "the person who shall have done the most or the best work for fraternity between nations, the abolition or reduction of standing armies and for the holding and promotion of peace congresses," in accordance with the will of Alfred Nobel. In the event that he is made a Nobel Laureate, Norway's asylum laws make it unlikely he will be able to receive the award in person.
Read the full letter here.
Have a tip we should know? [email protected]