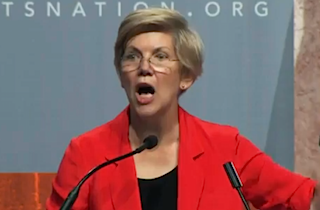 The annual Netroots Nation progressive conference came to Detroit, Michigan this week and on Friday, Sen. Elizabeth Warren (D-MA) delivered a fiery speech that laid out her positions and platform and could serve as a template for a potential future run for president. To chants of "Run Liz Run," the senator told the crowd that "deep down," the fight between the left and right in America is over "values."
Warren defined the conservatives' "internal motto" as "I got mine, the rest of you are on your own." By contrast, she said progressives are guided by the "principle" that "we all do better when we work together and invest in building a future… not just for some of our kids, but for all of our kids."
She proceeded to lay out "progressive values" that are also "America's values," like stronger regulations on Wall Street, a belief in science, net neutrality and raising the minimum wage. "These are the values we are willing to fight for!" she said to applause.
"We believe that students are entitled to get an education without being crushed by debt, and we are willing to fight for it," she said. "We believe that after a lifetime of work, people are entitled to retire with dignity. And that means protecting social security, Medicare and pensions, and we will fight for them!"
"I can't believe I have to say this in 2014," Warren said, echoing a speech she made on the Senate floor earlier in the week. "We believe in equal pay for equal work and we're willing to fight for it. We believe that equal means equal and that's true in marriage, it's true in the workplace, it's true in all of America."
Finally, she ended her speech by taking on the recent Supreme Court ruling that gave corporations like Hobby Lobby the right not to cover certain contraceptives for their employees.
"Oh, and we believe that corporations are not people, that women to have a right to their bodies," she said to escalating cheers. "We will overturn Hobby Lobby and we will fight for it!"
Back in April, Warren insisted, "I'm not running for president." But it sure sounded like she was campaigning for something.
Watch the climactic end to her speech below, via Netroots Nation:
[Photo via screengrab]
— —
>> Follow Matt Wilstein (@TheMattWilstein) on Twitter
Have a tip we should know? [email protected]