'Embarrassing!': Cenk Uygur Smacks 'Clinton News Network' for Assuming Sanders Coverage Was Fair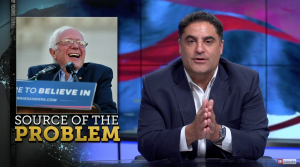 The Young Turks aren't secretive about their presidential preference for Bernie Sanders, but Cenk Uygur kicked things up a notch last night when he ripped CNN for congratulating itself on how they've covered his campaign effort.
In a segment called "Clinton News Network Thinks It's Been Super Fair To Bernie Sanders," Uygur pointed to a Reliable Sources segment where Brian Stelter moderated a panel that (again) declared the Vermont senator to be mathematically locked out of the Democratic nomination. Uygur noted how the panel not only flooded with "establishment" media pundits, they also couldn't scrounge up a single person to defend Sanders' argument that he can still move forward.
Moving on, Uygur argued that the delegate math was "rigged" from the start, and that now it's just the latest excuse to keep Sanders dismissed as a longshot who networks don't need to take seriously. Uygur also explained how super-delegates could switch and vote for Sanders as they've done in the past, and that the mainstream media's disregard for that fact was a "gross act of negligence" if not downright "embarrassing."
"Perhaps it wasn't the math of the end that was the problem," Uygur said. "It was the fake math you put at the beginning that was the problem."
Uygur finished things off by noting that if the math and polling means so much to the mainstream media, then they should find Sanders supporters for a reminder on how they feel about the media and their chances against Donald Trump.
[Image via screengrab]
— —
>> Follow Ken Meyer (@KenMeyer91) on Twitter
Have a tip we should know? tips@mediaite.com