Eric Holder Tells Ferguson Locals His Own Experience with Racially Profiling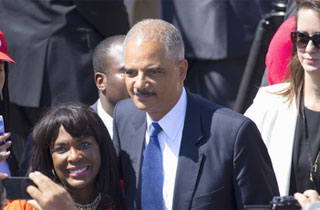 Speaking to a small group of community college students in Ferguson, Mo. today, Attorney General Eric Holder told them the story about how he, like them, had been racially profiled growing up.
Holder, who is in Ferguson investigating the death of Michael Brown, recounted an incident where he was pulled over on a New Jersey highway for no reason — an incident he's told the NAACP in the past, but one that could go a long way towards establishing trust between the Department of Justice and the town of Ferguson.
"He told the story about how he was humiliated," said Bradley J. Reyford, a 22-year-old student at Florissant Valley Community College, told The Hill. "They got him out of his car and searched his car."
Being profiled didn't end for Holder as a young man, according to a speech he gave back in April:
The attorney general told an audiance [sic] at the annual National Action Network convention in New York that his father gave him advice as a boy on how to interact with police if he ever felt he had been stopped unfairly.

"I thought of my father's words years later, when – as a college student – I was pulled over twice on the New Jersey turnpike and my car was searched – even though I was sure I hadn't been speeding," he said, according to his prepared remarks. "I thought of them again some time after that, when a police officer stopped and questioned me in Washington while I was running to catch a movie – even though I happened to be a federal prosecutor at the time."
Holder met with the students as part of President Obama's request to "know what students are feeling about the police departments in the area," Reyford explained.
[The Hill]
[Image via spirit of america / Shutterstock.com]
—
>> Follow Tina Nguyen (@Tina_Nguyen) on Twitter
Have a tip we should know? tips@mediaite.com