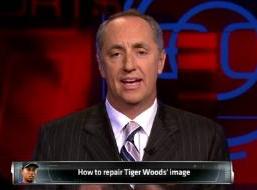 Rick Reilly came to ESPN from Sports Illustrated in a high profile move two years ago.
But Reilly's connection with the average sports fan is as strong as a dial-up modem (attempt at Reilly prose) – and it was never more clear than in his odd, over-reaching advice for Tiger Woods this week (and even some at ESPN agree publicly).
He was on Sportscenter Tuesday to tease a column about the same issue. Here's some of Reilly's advice:
I think he's got to fire his caddy, I think he's got to fire his agent, his PR guy anybody that his wife no longer trusts, rightly or wrongly, has to go if he wants to stay with his wife.
What exactly did his caddy do? And "rightly or wrongly," Woods has to get rid of anyone who his wife wants? This logic seems completely unjustified. But wait, there's more:
Most importantly I think he just needs to forget golf for awhile. Just practice, he lives right next to the range in Orlando, and prove to the world that his marriage is way more important than majors. He can shut it down, clear through to the U.S Open, maybe to the British Open, and be really serious about this.
Sportscenter anchor Jay Harris gently followed up, saying it "goes contrary to what a lot of folks think. Many experts think he needs to get back on the course and start winning and this will all go away."
"When your house is on fire, you don't go play the Buick Open, you don't go play the Masters," said Reilly.
Not suprisingly, 62% of Sportsnation (also on ESPN) disagreed with Reilly's PR plan for Woods (actually that number sounds low), and it has been largely disputed across the web.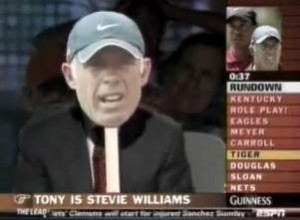 But then there was the reaction from his ESPN colleagues. On Pardon the Interruption yesterday, during the "Role Play" segment, Tony Kornheiser played the role of Woods' caddy, Steve Williams. Reilly's comments came up, and co-host Michael Wilbon didn't hold back:
Wilbon: Tiger Woods always turns to you for advice. What you got for him now?

Kornheiser (as Williams): First of all, I don't even know if I'm working for Tiger because Rick Reilly went on TV, said I should be fired, Tiger's agent should be fired, everybody in the Tiger camp should be fired.

Wilbon: How stupid was that, Stevie? How dumb was that?
If there was someone who would publicly say what others are thinking within ESPN, it made sense to happen on PTI.
Here's Reilly's Tiger screed:


—–
» Follow Steve Krakauer on Twitter
Have a tip we should know? tips@mediaite.com