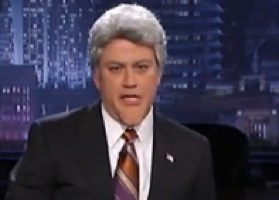 As we pointed out yesterday, Jay Leno would like you to know that this is not his fault. But judging by the reactions of his fellow comedians, there is no love lost between Leno and his late-night peers. Given the histories between Leno, David Letterman and of course, Conan O'Brien, it makes sense that there would be some tension in the evening monologues. But when innocent bystander Jimmy Kimmel gets in the act, and goes out of his way to crap on Leno? It might signal that, in fact, Leno doesn't really have many pals in Hollywood.
The fraternity of comedians is a pretty tight lot. Many of the most successful stand-ups (and late night hosts) know one another from their earliest days of coming up, poor, hungry and sleeping on each others couches in hopes of one day hitting it big. The comedian's code seems to include a pledge never to call out another performer for not being funny (though stealing material is the worst of all crimes.) No, comedians typically look out for each other, in large part because no one else does.
So this makes recent reactions to reports of Leno's going back to the 11:30 time slot even more curiouser. Judging by comments by nearly everyone in the biz (not named Jerry Seinfeld) the comedy world is on Team Conan, or more to the point, can't believe that Leno can't see the red light that's on, telling him that his time is up.
The latest is Jimmy Kimmel, who's comedy attack on Leno last night got personal — with prosthetic jaw, grey wig and Leno-esque lisp. Over the line? Judge for yourself after watching the following video of his intro last night:
Have a tip we should know? tips@mediaite.com