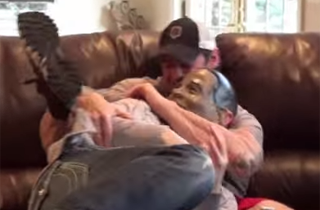 Real Talk with Chris Heben, a bizarre web talk show hosted by two ex-SEAL hosts, may be the only talk show on the internet where "Barack Obama" gets choked out by a veteran.
The program is hosted by SEAL Team Consulting — Mike Lemire and Chris Heben — the latter of whom is notorious for admitting last year that he'd lied about being shot at by three black men.
This particular episode, filmed in a living room, seems fairly normal with silly talk show banter, a Fallon-esque bit where they test guests with word-association pictures, even comments about Sen. Dianne Feinstein (D-CA) and the release of the then-recent CIA torture report, which Heben calls a "quasi-journalism article about the CIA torture techniques."
But then, thank you, Talking Points Memo, for bringing us this next scene: An interview with Barack Obama, which, wow, that's a huge get for their living room talk show:
The video then cut to a scene in which Lemire was wearing a costume mask of Obama. The conversation that ensued was sprinkled with patronizing jabs and references to popularized criticisms of the President.

However, when the fake "Obama" debuted a new military salute that included a dance move, Heben leaped across the couch and placed the masked man in a chokehold.

Lemire, from behind the mask, could be heard shouting, "9-1-1, call the SEALS!"
The video then cuts to Lemire explaining that the following sequence was apparently just a dream he had in which he was attacked by SEALS. Mmmmkay.
Watch below:
[TPM]
[Image via screenshot/YouTube]
—
>> Follow Tina Nguyen (@Tina_Nguyen) on Twitter
Have a tip we should know? tips@mediaite.com