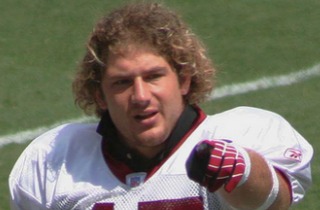 Former Redskins tight end Chris Cooley is getting tired of all the arguing over the team's name needing to be changed because of its perceived offensiveness. So on his ESPN radio show this week, he mocked the outrage by calling for a boycott of the San Diego Chargers because of global warming and the ozone or something.
Cooley's co-host Steve Czaban said this is all coming from "guilt-ridden white liberal sportswriters" who need a cause to cling to so they can "feel good about themselves," while disputing the idea that there's any significant percentage of any group, let alone Native Americans, that finds the name offensive.
Cooley then decided to get in on the boycott game by calling for a boycott of his own against a team name he finds offensive.
"You and I need a cause. And you know what that cause is going to be? I don't like the Chargers because I want to protect the ozone, all right guys? I feel like there's a global warming issue, and I don't like the name Chargers, because they're promoting electricity. Eff electricity, and eff the Chargers name. I have a problem with them. All I've got to do is a pamphlet and 10 percent of a couple people and maybe a senator or two that wants to protect the ozone and we're off and running."
He also strongly intimated that all the crying foul about the Redskins is about people trying to "create power."
[h/t SportsGrid]
[image via bootbearwdc]
— —
Follow Josh Feldman on Twitter: @feldmaniac
Have a tip we should know? tips@mediaite.com
Josh Feldman - Senior Editor