EXCLUSIVE: Harris Faulkner, Martha MacCallum, and Ainsley Earhardt Speak Out on Being Women at Fox News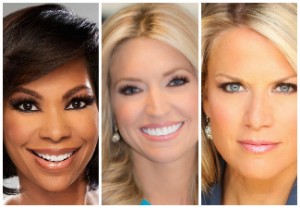 You've heard that Gretchen Carlson is suing Roger Ailes for sexual harassment during her time at Fox News. You've heard that numerous other women are speaking out to say that Ailes propositioned them for sex in exchange for career success, too. You've heard that there is a "leg cam" at the Fox News studios designed to show off the most attractive female hosts, you've heard that the women there are banned from wearing anything but dresses, and you've heard that Greta Van Susteren and Sean Hannity have already shot down all of Carlson's allegations.
Van Sustern, however, is stationed in the nation's capital, not New York City, where the majority of the Fox News crew is located. Hannity isn't exactly poised to speak on what it's like to be a woman at the network, either. So, FNC reached out to Mediaite asking if we'd like to speak to a few high-profile women from the network. To find out what it's really like to be a female employee of the media giant, we agreed. FNC tells us that all three women wanted to speak out. and chose to do so on their own.
It is important to note that Harris Faulkner, Martha MacCallum, and Ainsley Earhardt can only speak to their own experiences. They do not speak for all female employees of FNC or all women in the news industry or beyond it. And, they are clearly on Fox News' payroll. They each only speak for themselves, which was made very clear by all three of them.
That being said, there was one topic that elicited an emphatic response from all three: The supposed "leg cam" and bans on ladies in pants.
MacCallum insisted, "No one has ever told me not to wear pants! I would love to know where that came from. I have worn pants!" 
"I've never been told you can't wear pants," Earhardt said. "Fox allows us to be ourselves … [and] there is no leg cam!"
Faulkner, too, was very clear: "I've never had a conversation with anyone telling me to wear pants."
Still, Faulkner and MacCallum both pointed out that because they work in a visual medium, it only makes sense that they would want to be well-groomed. "We want eyeballs on the screen," said Faulkner, who hosts the extremely popular and female-driven Outnumbered.
Of course, equality in the workplace goes much, much deeper than the ability to wear pants. The overall atmosphere of any company is key. Do women at FNC feel that their workplace is friendly and fair to women? Well, the three we spoke to do.
Faulkner was keen to point out that she has always been taken very seriously at FNC. She did, after all, arrive with six Emmy Awards under her belt; she wouldn't have stayed if her accomplishments had been diminished in any way. MacCallum has worked at the Wall Street Journal and NBC and she reported that the atmosphere at Fox was the best she's encountered. She called teamwork one of the main elements that propels the staff at Fox News, saying she considers everyone there a partner and that she's never felt diminished or objectified by a single person she works with.
Earhardt, who covers spring break on location in Florida for the network every year, has faced some unseemly remarks from interview subjects on-camera, but claimed that at the network itself, she's never felt unsafe or put upon in any way. That is of particular importance from her, given that she is currently working every morning with Steve Doocy, a man named in Carlson's complaint as being a main perpetrator of sexist behavior at the network. Here's what Earhardt said about him:
I adore Steve Doocy. He is a leader. He is nothing but nice. He is a gentleman. He is a family man. He is an amazing person … I am devastated to learn that he is part of this. I love him. I think so much for him.
When pressed for clarification on her statement about learning "that he is a part of this," she stated unequivocally that she doesn't believe any of the allegations against him. Moreover, she, Faulkner, and MacCallum don't believe the allegations against their boss, Ailes, either.
Faulkner praised him for his pep talks, his ability to follow up on every promise he makes, and, finally, his willingness to stand behind his employees, which Carlson claimed he never did for her. Faulkner, who is a woman of color, explained where her deep respect for Ailes came from like this:
Here's what I know: My rise and success have been a direct result of the merits and fabulous  opportunities from mentors, including Roger Ailes. Without him, my journey would be quite different. He has changed the arc of my career. He believed in me when people who looked like me were not in network news. He put me in primetime and included me in the process of developing Outnumbered. I am profoundly grateful for the opportunities he gave me and not once have I ever been ashamed to say these five words: Roger Ailes believes in me.
Earhardt called him a "father figure" not once, but twice. She also revealed that when Carlson's lawsuit hit the headlines, she called her bosses and told them that if the need arose, she would be happy to speak out in support of Ailes because she simply believes in him that much. One reason for her ardent support of him is simple: Where most working women are afraid to tell their bosses they are pregnant and fear losing their jobs while away on maternity leave, Ailes gave Earhardt a promotion while she was gone on her leave.
"Roger is such a terrific boss," mused MacCallum. "I don't like to see anything that reflects negatively on him. If anything, [Carlson's lawsuit] sort of bonded us. It's brought people together."
One thing they all seemed united on was their handling of the other women who have spoken out against Ailes in the past few days. MacCallum simply said, "I don't know those other women," while Earhardt said, "I don't even know any of those people."
"Those people" keep coming forward, however. One woman, Kellie Boyle, claimed in a Fortune interview posted yesterday, that when she told Ailes she wouldn't sleep with him, he effectively blacklisted her from the industry of political communications. So, again, the experiences of three individual women are not necessarily the experiences of all of them. In a situation like this one, though, the stories of those who work closely with the accused can be very valuable, especially for fans who are still reeling from the initial shock of the lawsuit and who are looking for answers.
Those shocked fans, of course, would do well to note that though they spoke with conviction and passion, all three of these women are still working under contract at Fox News. Still, it was clear that they enjoy their jobs and love their coworkers, so at the very least, FNC is doing some things right by these female employees.
[images via screengrab]
Lindsey is on Twitter and Facebook.
This is an opinion piece. The views expressed in this article are those of just the author.