Exclusive: Mediaite Analysis Of 'Weinergate' Photos Supports Anthony Weiner And Andrew Breitbart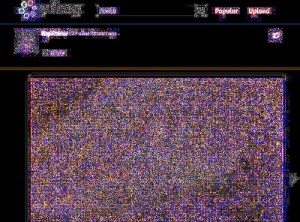 Some, notably a blogger at DailyKos, have suggested that the screen shot that Andrew Breitbart's Big Government ran when it broke the Anthony Weiner Twitter story is a forgery. Our resident expert, Philip Bump, reviewed their findings, and newly-released data about the original YFrog photo, and found evidence that strongly suggests Breitbart's innocence, and supports Weiner's contention that he was hacked. Here is Phil's analysis of the DailyKos findings, and the newly-released cache information on the YFrog photo:
There are a few ways to determine if a photo has been doctored.
*EXIF data*
One way is to compare the content and source of the image with the EXIF data, which is information about the creation of the photo that is carried along with the image itself. (To learn more about EXIF information, read this previous post. In the case of the Weiner image, the image that has been shared online is a screen capture of an image sharing site – meaning that any EXIF information would be from the creation of that screen capture, not the image itself. In other words – it's not useful for determining the authenticity of the Weiner photo.
Even if the original image turned up at this point, I should note that EXIF data can be altered – or, if you prefer, faked. It's just text data that is embedded in the file, like the artist and song title that it buried in an MP3. So if the EXIF data of a newly-discovered image indicated it had been taken at Weiner's office (sometimes, geographical data is included) two minutes before the image was posted – there's no guarantee that information is accurate. (EXIF data could be more helpful here in an exculpatory scenario. If the picture had been taken in Tuscaloosa on Christmas Day, it would certainly indicate it weren't likely from Weiner. Though not conclusively)
…And sure enough, even before this article posted, a full version of the image with EXIF information turned up, from its original "discoverer".
Reuters' Anthony De Rosa looked at the data for the photo at issue and notes that it doesn't match previous images uploaded by the Congressman – the type of camera is different, as is the content included.
In fact, in the data for the contested image certain information that would be important for verification – such as the modification date of the image – is missing entirely.
*Image Manipulation*
Some have indicated a belief that the screen captured image posted at Big Government showed signs of manipulation. Another blogger at Daily Kos runs through the argument: a software tool that compares compression artifacts in images seems to indicate that the Congressman's name shows evidence of manipulation. But what's noteworthy about this analysis is that the name shows the same level of manipulation as other text in the image. Meaning, then, that if the name were forged, it is likely that the site's "Popular" and "Upload" links were also forged. Which, of course they weren't.
No one disputes that the photo was doctored to display underwear-covered genitalia. For which I'm glad, because I'd rather not spend a lot of time assessing that claim.
*Motive and Context*
This is the most important consideration when assessing a forgery. Why would someone have faked an image? What would they be trying to fake?
In this case, Rep. Weiner readily admitted that his account had been hacked. That being the case, there would be no need to forge the screenshot. If the image had never appeared on Weiner's account, he could prove that in other ways – contacting the image host, etc. He admits that the image could possibly have been on his account, meaning that the DailyKos' analysis is moot. There was no reason to fake such a screenshot.
In final analysis – the screenshot posted by Big Government shows an image that appears to have been posted to Weiner's image hosting account. It's worth noting, too, that this is entirely consistent with what Weiner has said all along.
Philip Bump is a Photoshop Expert. He used to be a designer at Adobe Systems, Inc., makers of Photoshop. Among other things, he worked on the Photoshop user's manual and designed chapters for the Photoshop Classroom in a Book.
Have a tip we should know? tips@mediaite.com