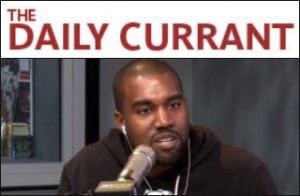 Finally! No more deaths from legalized pot. No more Kanye West claiming to be the next Mandela. No more Obama funding Muslim museums. No more Bill O'Reilly assaulting a retail Santa Claus. No more Sarah Palin going to Harvard or Al Jazeera.
Facebook announced Tuesday a news feed fix that will, it hopes, weed out the lion's share of hoax news stories.
The fix will be included in the spam-reporting function.
"When you click to hide a story you also have the option to report the content," the site wrote Tuesday. "To reduce the number of these types of posts, News Feed will take into account when many people flag a post as false. News Feed will also take into account when many people choose to delete posts. This means a post with a link to an article that many people have reported as a hoax or chosen to delete will get reduced distribution in News Feed. This update will apply to posts including links, photos, videos and status updates."
RELATED: A Helpful Guide on How to Avoid Falling for Parody News Sites, Twitter Accounts
The feed will also add a warning to a story that has been reported multiple times:

Facebook insists that this feature will not affect satirical websites like The Onion. (Back when Facebook considered adding a "satire" tag, recall, The Onion called them dipshits.) That's where things get tricky: sites like The Daily Currant and National Report, which self-label as satire but strive to make their posts appear real, are responsible for some of the most pernicious hoaxes on the internet, including most of those listed above. They also often fool major news outlets, up to The New York Times.
It was unclear how the function will affect those sites. Mediaite reached out to Facebook's press office for clarification and will update accordingly.
UPDATE: Per a Facebook spokesperson:
This update to News Feed uses negative feedback from people across Facebook as a signal in ranking – much like we already do with spam reports. We've found from testing that people tend not to report satirical content intended to be humorous, or content that is clearly labeled as satire. There are no human reviewers or editors involved.
[Image via screengrab]
——
>> Follow Evan McMurry (@evanmcmurry) on Twitter
Have a tip we should know? tips@mediaite.com