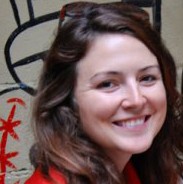 Let me just say this: I am no style expert. Most of you aren't either. But we all have to put on clothes everyday and make decisions about how present ourselves to the world. Plus, we love to judge the fashion choices of others. Think you don't? I dare you to watch the red carpet special before the Oscars and not say a peep. Remember when Bjork wore that dress made out of a swan in 2001? You had nothing to say about that? Really?
Last year my husband and I were shopping at Uniqlo in Soho — he upstairs in the men's department, me downstairs in the women's. As we tried on various corduroys and sweaters we texted back and forth: "Come look at this, what do you think?" But really, how well can you trust your spouse's opinion? They have so many ulterior motives. They don't want you to spend the money; they want to finish shopping and go home and play Wii; they don't want you to look too sexy for girls night out. In fact, who can you trust? The salesperson? Not if they work on commission or are the owner. Your best friend? Perhaps, if she has the time to go shopping with you and doesn't live halfway across the country in Omaha. And still, that is just one person. Do you really want to trust the person who wore red cowboy boots to a black tie dinner?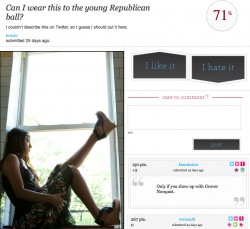 Here was a problem screaming for an solution, particularly in this age of iPhones, cheap digital cameras and Twitter. Thus we created Fashism.com so people could upload a picture, ask a question and get instant feedback on their fashion decisions. Sure, not everyone can give GOOD advice, and some people are needlessly harsh, and some ridiculously nice, but if you ask enough people you'll get something you can use.
Now, when I'm out shopping or preparing for a night out on the town, I don't have to struggle for 30 minutes over one small question. I just snap a picture, ask a question, and let my team of style consultants lead me to the right look.
Here are 10 ways people are using the site to interact, play and get feedback from others — check them out in our  photo gallery. Let us know what you think. We can take it — and then we'll wear it!
FASHISM IN ACTION: Photo Gallery
Brooke Moreland is the co-founder of Fashism.com, the home of democratically-made style choices and the best new fashion site on the whole wide internet. She also edits the Fashism blog.
Have a tip we should know? tips@mediaite.com