FBI Arrests The Man Behind South Park Death Threats While He Prepares To Fly To Uganda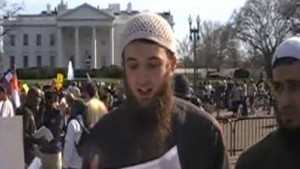 Zachary Adam Chesser AKA Abu Tallah Al-Amrikee has been arrested by the FBI. Chesser made headlines in April when he posted threatening messages to the creators of the series South Park following an episode which seemed to feature the Prophet Muhammad in a bear costume. Chesser was apparently arrested on July 10th at a New York airport while trying to fly to Uganda. Chesser was on the No Fly List and was stopped by authorities before boarding the plane.
The arrest was not related to the the South Park threats. In that situation, Chesser had narrowly skirted the law as the "warning" he posted on his website didn't legally qualify as a threat. In it, though, he posted the addresses of the creators Matt Stone and Trey Parker along with photos of the murdered director Theo van Gogh. Instead, Chesser was arrested after openly telling authorities that he was leaving the country to join and fight alongside a known terrorist group.
From the Washington Post:
"Zachary Adam Chesser, 20, was stopped July 10 after he was placed on the no-fly list and denied aboard a commercial flight from New York City to Uganda, U.S. authorities said.

Chesser allegedly told agents that he twice attempted to travel to Somalia to join al-Shabab, an extremist Islamic insurgency group that has tried to topple Somalia's weak internationally backed government and that the State Department designated as a terrorist group in February 2008."
The website Smoking Gun has the complete affidavit from the FBI here.
(h/t The AV Club. Photo via)
Have a tip we should know? tips@mediaite.com