FBI Chief Was Right to Slam 'Disgusting' NY Times Decision to Use Anonymous Al Qaeda Source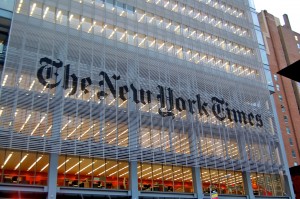 The New York Times gets plenty of criticism these days, more recently for its decision not to republish the new Charlie Hebdo cover when so many other outlets (print and television, see the list here) chose to do so. But now the self-described paper of record has attracted the ire of a pretty powerful entity: The Federal Bureau of Investigation.
The mudslinging began when FBI Director James Comey wrote an angry letter to The Times, slamming it for quoting an anonymous source in al Qaeda. Said quote can be found in a story regarding responsibility and timing around the Charlie Hebdo attacks in Paris. According to the paper, "The Qaeda member said that although the operations were executed by one man who had ties to the Qaeda group and another who had ties to the Islamic State, the coordination was a result of their friendship — not of common planning between the groups." Note: The NYT source used a secure, encrypted mobile messaging app to communicate with the paper.
Comey was not pleased:
"Your decision to grant anonymity to a spokesperson for Al Qaeda in the Arabian Peninsula so he could clarify the role of his group in assassinating innocents, including a wounded police officer, and distinguish it from the assassination of other innocents in Paris in the name of another group of terrorists, is both mystifying and disgusting," adding, "I fear you have lost your way and urge you to reconsider allowing your newspaper to be used by those who have murdered so many and work every day to murder more."
So who's correct here? James Comey or the Times? Should an influential newspaper provide a platform to an anonymous source of a sworn and deadly enemy of the United States?
Michael Slackman, international managing editor for the paper, justified the decision. "The individual quoted anonymously has for several weeks provided accurate insight and information into the thinking and actions of AQAP," Slackman explains. "The material was generally central to the news, in one case noting that al Qaeda and the Islamic State had not jointly planned the attacks in Paris."
Duly noted and a sound argument, except for a few things: Whether the material the source provided is newsworthy or not is irrelevant if the source material hasn't been verified and the source himself vetted. How does the paper know the al Qaeda source is legit? Remember, he communicated them using a social messaging app. So does that mean a face-to-face meeting never occurred nor has in the past? The paper — starting with its public editor, Margaret Sullivan — needs to share with its readers exactly how this particular source was vetted. Because by basing its reporting on a major story using an anonymous source who might as well be a fake Twitter handle (again, we don't know), that source suddenly gains legitimacy and may be used again in the future.
As Sullivan notes: "Sources always talk to news outlets for a reason, and that reason is seldom altruistic; it certainly isn't in this case. That has to be top of mind. The Times must be extraordinarily careful in using information from a terrorist organization. It needs to tell readers as much as possible about how the information was obtained, from whom it came, and how it was corroborated."
But therein lies the rub. We don't know who provided the information (since it came through an encrypted mobile app) nor how that info was corroborated. Sullivan is absolutely correct that the terror organization is in the mood to talk to the infidel media not because they're suddenly in a giving mood–but because it has a messaging motive.
Add it all up, and the Old Gray Lady is more than happy to legitimize an anonymous al Qaeda source because of the "news value" he provides. But when it comes to showing the inspirational and entirely newsworthy new Charlie Hebdo cover seen here, that doesn't qualify as news fit to print.
CNN's Reliable Sources discussion of the issue of anonymous terror sources below:
— —
>> Follow Joe Concha on Twitter @JoeConchaTV
Have a tip we should know? tips@mediaite.com