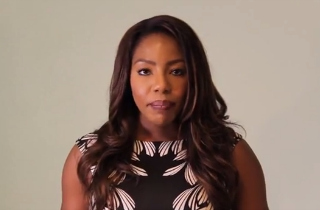 Reporter-turned-marijuana advocate Charlo Greene may be in trouble for allegedly violating campaign finance laws, which goes to show you: no matter how awesomely one may quit their jobs on live TV, the Man always catches up to you.
Greene, whose infamous declaration of "Fuck it, I quit" went viral, is currently locked in a battle with the Alaska Public Offices Commission over whether they can subpoena her advocacy group, the Alaska Cannabis Club, over documents they believe show that she violated the state's campaign disclosure laws with her IndieGoGo campaign — specifically, that she used it to illegally advocate on behalf of a ballot measure.
As the Alaska Dispatch-News details the allegations:
According to agenda documents released by APOC, in order to better understand whether Greene was in compliance with campaign disclosure laws, the commission asked Greene in early October to produce documents related to her IndieGogo fundraising campaign. That campaign netted the Cannabis Club with over $8,400 in donations.

Alaska law requires all entities advocating for candidates or campaigns to register with the commission. All donations and expenditures related to campaign activities must be submitted to the commission.

While Greene registered her group with the commission on Oct. 2, filing a handful of independent expenditures, she then stopped and began challenging the agency's jurisdiction over her fundraising efforts.

In an interview Thursday, Greene contended that she filed with the organization to comply with finance disclosure laws for the small amount of advocating she did do for the marijuana effort. But, she says, the IndieGogo campaign should not be subject to APOC reporting requirements because it was fundraising for her organization, not the ballot measure.
Greene also pointed out that she didn't receive the funds from her IndieGoGo campaign until three weeks after the election, in which Ballot Measure 2, which legalized small amounts of marijuana and paraphernalia for personal consumption, was passed. "(APOC) is saying the IndieGogo was formed for the ballot measure, and it wasn't," she told the Dispatch-News, adding that she would challenge the subpoena. "It was formed for our freedom and fairness fight, which didn't end on Nov. 4 because marijuana is still not legal across the entire nation."
[Talking Points Memo]
[Image via screenshot]
—
>> Follow Tina Nguyen (@Tina_Nguyen) on Twitter
Have a tip we should know? tips@mediaite.com