Ferguson Police Statement: Please Don't Protest Michael Brown Shooting at Night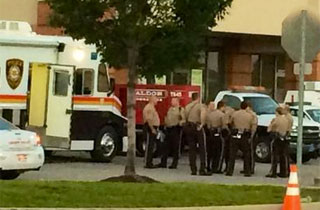 The Ferguson Police Department today released its first statement since the shooting of Michael Brown, an unarmed black teenager, last Saturday.
While it did not release the name of the officer who shot the 18-year-old, it did ask, ever so politely, that anyone "wishing to assemble in prayer or protest do so only during daylight hours in an organized and respectful manner."
"We further ask all those wishing to demonstrate or assemble to disperse well before the evening hours to ensure the safety of the participants and the safety of our community," they added. "Unfortunately, those who wish to co-opt peaceful protests and turn them into violent demonstrations have been able to do so over the past several days during the evening hours."
The riots in Ferguson have grown increasingly violent in the past few days, with reports of tear gas and rubber bullets at protestors, and the Rev. Al Sharpton visiting Ferguson to call for a stop to rioting. Another 19-year-old man is currently in critical condition after being shot by a police officer, though it's unclear whether his shooting was related to the riots or not: he and a group of friends were wearing ski masks and wielding shotguns, according to NPR.
The full press release is below:
#BREAKING first official news release from #Ferguson PD since death of #MikeBrown @kmov pic.twitter.com/Z27k2DOm7J

— Laura Hettiger KMOV (@LauraKHettiger) August 13, 2014
[Laura Hettiger]
[Image via Laura Hettiger]
—
>> Follow Tina Nguyen (@Tina_Nguyen) on Twitter
Have a tip we should know? tips@mediaite.com