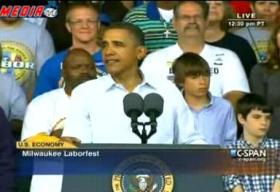 President Barack Obama was in Wisconsin today for a Labor Day speech that took some major shots at the Republicans – including a new twist to his oft-used car analogy.
It was a markedly different tone than his usual one, complete with sharp jokes, rolled up sleeves and no tie and at least one moment of going off script. The three cablers covered it live.
CNN and Fox News have been live all day (CNN even has the regulars, including Ali Velshi and Rick Sanchez, in the afternoon). But MSNBC had been in doc block repeats all day, coming out of it specifically for the speech.
From the NYT Caucus blog:
In a Labor Day speech today in Milwaukee, President Obama will call for a $50 billion investment in transportation projects to boost the economy and public confidence, White House officials said.

The spending would come over the next six years, but would require Congress to approve an initial investment of $50 billion. The plan is to rebuild 15,000 miles of roads, construct and maintain 4,000 miles of railway and rehabilitate or reconstruct 150 miles of airport runways.
The plan calls to mind The History Channel's The Crumbling of America, which Rachel Sklar wrote about in May.
But it was the tone that was most notable. Several times Obama spoke about 'fighting' and Mark Knoller tweeted before the speech, "Obama will be using many lines from his Dem fund-raising speeches to blast GOP positions on his policies."
There was this off the cuff remark: "Some powerful interest groups have been dominating the agenda in Washington for a very long time. They're not always happy with me. They talk about me like a dog. That's not in my prepared remarks, but it's true."
He also described House Minority Leader John Boehner, not by name, as "somebody who thinks he's going to be speaker." Later, furthering the pushing-the-car-out-of-ditch analogy, he said, "We're sweating and these guys were watching us and sipping on a Slurpee."
Amanda Carpenter tweeted, "I cannot remember Obama ever being so cocky as a candidate. This is really incredible to watch."
Check it out for yourself – here's the last half of the speech:

—–
» Follow Steve Krakauer on Twitter
Have a tip we should know? tips@mediaite.com