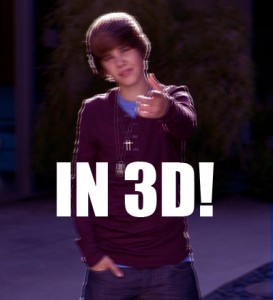 Film theory fans take note! In one of the most brilliant examples of perfectly matching medium to subject, a film employing the ridiculous fad of 3D will be released next year starring the ridiculous fad Justin Bieber. In the glorious tradition of Cool As Ice, the "biopic" (what, is it 10 minutes long?) will be released right around the time Bieber's fans get bored and find someone else to spend their babysitting money on.
Gossip Cop is reporting that the movie, which we can only presume will be about a kid from the wrong side of the tracks (in 3D!) who tries to win the heart of his dream girl (in 3D!) while starting up his burgeoning music career (in 3D!) and refusing to sell out (in 3D!), is actually going to be directed by Davis Guggenheim, the Oscar winning director of An Inconvenient Truth. Bieber is clearly very excited about the news, using all 140 allotted characters to tweet about it yesterday. To make matters even better, the movie was announced the same day as Bieber's, uh, illustrated memoir. Yep, milk it for all its worth, folks.
Well, clearly I'm not in the key demographic for this thing so I might as well just let it be. To be honest, Justin Bieber isn't nearly as obnoxious as 3D. So, all the power to him. May his movie be a success and let him stave off his inevitable child star drug addiction a few more years. Besides, this stupid song is still ridiculously catchy (in 3D!).
Have a tip we should know? tips@mediaite.com