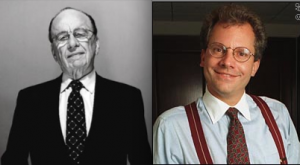 A little over a week ago — and what a week it's been in New York City — Rupert Murdoch's Wall St. Journal launched its new local New York City section to great fanfare. The section, intended to directly compete with New York Times, boasts more than 20 reporters, was celebrated with a splashy 600-guest party at Gotham Hall, and launched a 24 hour bonanza of "newspaper war" themed coverage. In fact, battle of the media titans seemed to be the basis for almost all of the coverage; precious little ink was spent on whether it was a smart move to launch a brand new print section in middle of a generational move away from print. As Newsweek's Jon Meacham said last night: "We live in an era in which all print-based media are not exactly rolling in cash." Nor was there much mention as to how the Journal intended to differentiate itself from the Times.
But hey, why focus on the nitty gritty when there's a good war story to be had? Answer: it's irresistible. When I asked NYU's Jay Rosen about the difference between the reality and the hype he remarked that "the phrase "old fashioned newspaper war" is simply too attractive to be resisted; an entire mythology rides on it, reaching back to His Girl Friday and "you supply the pictures, I'll supply the war." (The Hearst of the legend.) Nothing can stop a narrative like that, and nothing will."
Except maybe lack of readers. It's far too early to tell whether the Journal's foray into local news — or as the Village Voice refers to it, "The New York Post for People Too Rich To Be Caught With A Copy Of The New York Post" — will be a success, one week does not a successful media venture make. That said, it's been one hell of a week for local news, and if there was ever a time for the Journal to shine and impress the past five days were a better opportunity than anyone could reasonably expect.
Alas, as far as I can tell, they've made nary a blip. In his column yesterday Michael Wolff described it as "a discordant and confounding presence" "inside what is still one of the best papers in the world." So what to do? Here's five things we think could help make the Journal's Greater New York Section actually matter.
>>>>NEXT: Five things we think could help make the Journal's Greater New York Section actually matter.
Have a tip we should know? [email protected]