"Los Suns": How Sports, Politics And Media Got Wonderfully Mixed-Up With Immigration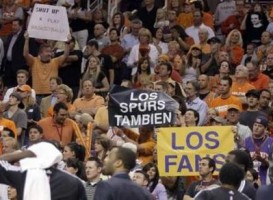 Almost exactly four years ago, there was a fantastic Sports Illustrated feature by Gary Smith on Sam Kellerman, the murdered brother of former ESPN personality and long-time boxing writer, Max. Kind of an obscure piece to remember on the spot, but there's a pretty over-arching theme about sports and life that I will never forget from the story Max recalls about his brother:
Once, debating why man had invented sports, Sam unloaded this haymaker: "Sports is man's joke on God, Max. You see, God says to man, 'I've created a universe where it seems like everything matters, where you'll have to grapple with life and death and in the end you'll die anyway, and it won't really matter.' So man says to God, 'Oh, yeah? Within your universe we're going to create a sub-universe called sports, one that absolutely doesn't matter, and we'll follow everything that happens in it as if it were life and death.'"
In determining why I've become so invested in sports teams – and why writing about sports media is my favorite hobby – I often think back to this quote. It's certainly a universal idea, but there are moments when it doesn't seem that way, and what's happening in Arizona right now shows that there are times when sports trickles a little bit too close to the real world.
The state's sports franchises have been dragged into the debate around the controversial new immigration law, and talks of moving major league events including the 2011 MLB All-Star Game (but, interestingly, not the BCS Championship Game, as noted by Dr. Saturday) led Governor Jan Brewer to write a column posted to one of the most trafficked news sites online: a little sports empire known as ESPN.com. Sure, it may not make sense that Brewer is taking politics to this audience, but the lines have already been greatly blurred to the point that this was absolutely necessary. As she writes:
By now, sports fans everywhere have heard something about the passage of Senate Bill 1070, a measure I signed into law. It has resulted in protests outside ballparks hosting our Arizona Diamondbacks and has led to calls on Major League Baseball commissioner Bud Selig to strip the City of Phoenix's opportunity to host baseball's Midsummer Classic in July 2011.

Urging Major League Baseball to take away next year's All-Star Game from Phoenix is the wrong play. In Arizona, both proponents and opponents of Senate Bill 1070 have stated that economic boycotts are an inappropriate and misguided response to an issue that is clearly worthy of proper public debate and discourse. Put simply, history shows that boycotts backfire and harm innocent people. Boycotts are just more politics and manipulation by out-of-state interests.
Her logic is economic, not philosophical, in nature, but there is a connection here. The fact is that you can't separate the interests of the people of a state with the professional athletes who wear uniforms emblazoned with the hometown. It's nice to try, and as unfair as it may be to those unwilling to participate, it's a little too late. If you look closely in the photo that accompanies this post, there's one sign that says, "Shut up and play basketball." Of course, it was taken likely during the middle of the game, so they were playing basketball, but the wishful thinking of this Phoenician is really no much more than that.
Mike Wise, a sports columnist at the Washington Post, published a brilliant piece this morning talking about the political tenor echoing through the US Airways Center, Chase Field and many other parts of the sports landscape. He properly gives the Phoenix Suns owner, Robert Sarver, the credit he deserves for not shying away from the issue of the day and championing his stance, with the support of his players, through jerseys that said "Los Suns" instead of the team's normal wordmark. His defense of Sarver is well put, and he's right to say why this is a valid arena for debate:
One of the reasons we want sports to be a separate arena is because we like the safe feeling that the winner's circle is colorless, genderless, accepting of any ethnicity or socioeconomic group. It's a relief from real-world complexity. Everything from the score to the time has finality to it, genuine resolution. It's not intractable; it's resolvable.

But when political issues so pervade a community, a sports franchise — from the owner to the players — can't pretend they are somehow above or below the fray.
Sam Kellerman's idealist view of sports is an important one to keep – it helps to remind sports fans on the morning after a bad loss that this is just a game. But in the scheme of things, it's also one of the most prominent platforms of the community, and ignoring that role is a terrible game plan.
This post is cross-posted from Dave's blog, State of the Fourth Estate. Follow Dave on Twitter here.
Have a tip we should know? tips@mediaite.com