Five Women Come Forward and Accuse Louis C.K. of Sexual Misconduct: 'He Abused His Power'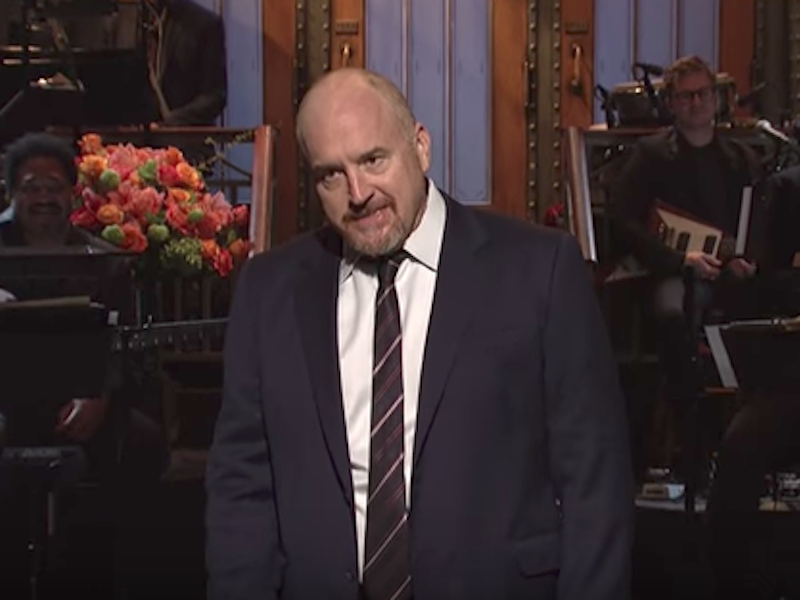 Rumors have been swirling all day that the New York Times was set to drop a bombshell story about comedian Louis C.K.
And now it's here. Five women have stepped forward and accused the 50-year-old of sexual misconduct, with several alleging that his modus operandi seemed to be getting naked and masturbating without consent.
Comedians Dana Min Goodman and Julia Wolov told the paper that C.K. asked to take his penis out while they were all hanging out in a hotel room in 2002.
The comedy duo thought it was a joke until he actually did it.
"He proceeded to take all of his clothes off, and get completely naked, and started masturbating," Goodman said. "We were paralyzed."
"I think the line gets crossed when you take all your clothes off and start masturbating," Wolov concurred. "Because of this moment, as gross as it is, we feel compelled to speak."
A third comedian, Abby Schachner, has alleged that C.K. called her on the phone and began masturbating, all the while speaking about "unprofessional and inappropriate" topics.
"I definitely wasn't encouraging it," she said. "You want to believe it's not happening."
"I felt very ashamed."
A fourth woman, Rebecca Corry, said the two were working on a television pilot together when the comedian did something similar, asking if he could masturbate in her presence.
"He asked if we could go to my dressing room so he could masturbate in front of me," she said, noting that she reminded him of his wife and child. "His face got red and he told me he had issues."
Actors Courteney Cox and David Arquette were executive producers on the unnamed pilot and both have confirmed that the incident occurred.
"What happened to Rebecca on that set was awful," Cox said.
A fifth woman, who remains anonymous, also spoke to the newspaper, alleging that he repeatedly asked her if he could masturbate in front of her. She eventually relented.
"I think the big piece of why I said yes was because of the culture," she said. "He abused his power."
Rumors that C.K. participated in this brand of sexual misconduct have been floating around comedy circles for years, with many publications — most notably now-defunct Gawker — commenting on the rumors. This is the first time, however, that named sources have come forward.
Comedian Tig Notaro considered herself a good friend of C.K. When she found out about these allegations, however, she recoiled, accusing him of producing one of her comedy specials just so he could "look like a good guy, supporting a woman."
"Sadly, I've come to learn that Louis C.K.'s victims are not only real, but many are actual friends of mine within the comedy community," she wrote.
The New York Times has reported that C.K. has apologized in private to Schachner, sending a message on Facebook.
"Last time I talked to you ended in a sordid fashion," he is said to have written in the message. "That was a bad time in my life and I'm sorry."
"I remember thinking what a repulsive person I was being by responding the way that I did."
Earlier today, the New York premiere of C.K.'s new movie was canceled and the comedian withdrew from an appearance on The Late Show With Stephen Colbert.
As of this writing, neither C.K. or his agent, Lewis Kay, have replied to these specific accusations.
[image via screengrab]
—
Follow Lawrence Bonk (@sidescrollers) on Twitter
Have a tip we should know? [email protected]