Flashback: In Russia, Obama Declared 'Great Power Conflict' a Thing of the Past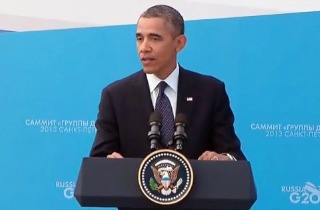 On September 6, 2013, with the Syrian civil war raging and widespread confirmation that President Barack Obama's "red line" for intervention in that conflict had been crossed, the president traveled to Saint Petersburg in Russia for a G-20 summit. There, addressing the ongoing crisis, the president said that the kinds of threats America will confront in the future are those posed by failed states and non-state actors. He said that the kind of "great power conflict" that typified the last century were unlikely because they are no longer in any nation's interest.

Speaking about the threat posed by the Syrian government's use of chemical weapons on its own people, the president stressed that the American people need to debate what the response of the United States and its allies should be. "These are going to be the kinds of national security threats that are most likely to recur over the next five, 10 years," Obama said.
"There are very few countries who are going to go at us directly," Obama continued. "Those countries that are large and powerful like Russia or China, you know, we have the kind of relationship with them where we're not getting in conflicts of that sort."
"At least, you know, over the last several decades, there's been a recognition that neither country benefits from that kind of great power conflict," the president added.
So the kinds of national security threats that we're going to confront, they're terrorist threats. They're failed states. They are the proliferation of deadly weapons. And in those circumstances, you know, a president's going to have to make a series of decisions about which one of these threats, over the long term, starts making us less and less safe. And where we can work internationally, we should.
Watch the clip below via The White House:
[Photo via screen grab]
— —
> >Follow Noah Rothman (@NoahCRothman) on Twitter
Have a tip we should know? tips@mediaite.com