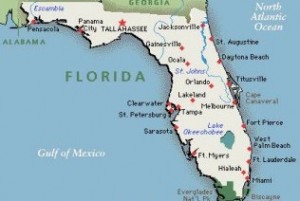 A bipartisan coalition of Florida mayors penned two letters to the moderators of the upcoming primary debates, insisting that the candidates — and, in particular, Florida Sen. Marco Rubio — be made to answer questions about their readiness to address climate change.
According to the letters, the mayors are "concerned about sea level rise and climate change and the severe impacts it is having on our communities" and "are equally concerned that so little attention has been paid to these issues in the presidential debates."
"It would be unconscionable for these issues of grave concern for the people of Florida to not be addressed in the upcoming debate you will be hosting in the state," the letter continues. Each missive includes three questions challenging the candidates to reveal their proposals to invest in infrastructure, in order to protect it from rising sea levels, and their action plan to reduce carbon emissions.
The letters were authored by Cindy Lerner, mayor of Pinecrest, Florida, on behalf of a coalition of 21 Democratic and Republican Sunshine State mayors, and were addressed to the respective moderators of this week's primary debates, which are scheduled to take place in Miami. (Democrats will debate Wednesday at Miami Dade College; Republicans will debate Thursday at the University of Miami.)
The letter to the Republican moderators includes an additional snipe at Rubio, for whom a strong performance in home state's primary next Tuesday is vital to his campaign prospects. "Senator Rubio represents this state and should not be allowed to fail to provide, or side step, substantive answers to these questions." In the Republican letter, each of the three questions is addressed directly to Rubio.
At a previous GOP debate, Rubio brushed aside the need to take action on climate change, saying, "America is not a planet." He has also dismissed the idea that the U.S. can pass laws that would affect climate change. Sen. Ted Cruz has vociferously denied science in support of climate change, likening those who believe in man-made climate change as practitioners of a religion. An AP study last year found that Cruz's remarks about climate change were the most ignorant of any candidate.
When it comes to climate change, Florida lies at the intersection of an urgent need for action and a particularly aggressive denialism. "Miami is 'ground-zero' for sea level rise and many coastal communities here are already grappling with 'sunny day flooding' from high tides alone," Lerner writes. "Miami has the largest amount of assets vulnerable to sea level rise in world and Florida is the most vulnerable state to sea level rise in the country."
The letter follows reports from last year that Florida's Republican governor Rick Scott had effectively banned discussion of "climate change" or "sea level rise" among government officials. Those two phrases specifically appear in the letter's opening sentence.
[h/t The Guardian]
Have a tip we should know? tips@mediaite.com