Fmr Boston Police Commish Reveals Mayor Menino Opposed Post-Bombing Lockdown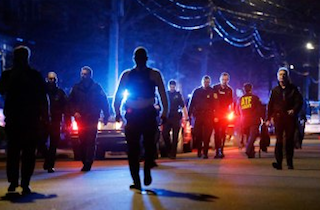 Two years ago, Governor Deval Patrick made the unprecedented decision to lock down the city of Boston while authorities attempted to find Dzhokhar and Tamerlan Tsarnaev, the brothers behind the Boston Marathon Bombings. In an interview released today, Ed Davis, the former Boston Police commissioner, said that it was a plan that then-Mayor Tom Menino opposed.
The five-term mayor, who died in 2014, had been hospitalized for for a broken leg when he heard about the bombings, and according to Davis, immediately went into action with the Governor and the President. Upon learning the identities of the bombers (Davis was instrumental to getting the photos released), and hearing that they had shot an MIT police officer and began throwing bombs at police, the two immediately butted heads over whether to lock down the city.
"There's a bus stop close to where this incident happened," Davis told Juliette Kayyem during this week's edition of WBGH podcast Security Mom. "We think the guy is still in the area. If that bus starts to run that route, that guy can get on the bus," leading to a possible hostage situation. And if Dzhokkar could get on a bus, he could get on a train. According to Transportation Secretary Rich Davey, this necessitated a shutdown of the transit system. "He said, 'This is an all or nothing proposition,'" Davis recalled. "That really did set the stage for the debate."
"The governor and the mayor went back and forth," he continued. "The mayor was not in support of shutting the city down. But the governor made the call."
In the end, Davis said that the lockdown was successful in that it forced Dzhokar, who was convicted on 30 counts and faces the death penalty, to give away his hiding spot in a Watertown boat. "The bottom line was we got a very good search done that basically flushed him out of a certain area into the boat," he said.
Listen below via WGBH:

[h/t Boston.com]
[Image via screenshot]
—
>> Follow Tina Nguyen (@Tina_Nguyen) on Twitter
Have a tip we should know? tips@mediaite.com