Following Hydrogen Bomb Reports, Rubio to Skip North Korea Meeting for Fundraiser (UPDATED)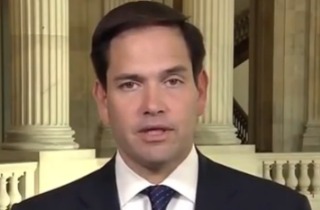 Over the course of his campaign, Marco Rubio's competitors have particularly zoned in on his missed Senate votes and major briefings in order to focus on the campaign trail. Today's developments probably won't help him there, for instead of attending a classified briefing on the North Korean situation, Rubio is scheduled to appear at a fundraiser in the Florida Keys.
The Senate Foreign Relations hearing planned for tonight is called "Assessing the Recent North Korea Nuclear Event," and it is highly likely the event will focus on reports that the regime has tested a hydrogen bomb. Rubio is a member of the committee, but his campaign billed him tonight for a home state event called "An Evening Reception with Senator Marco Rubio."
Rubio has made foreign policy a prominent part of his campaign, and as Reuters noted, he was among the first GOP candidates to slam President Obama for allowing the detonation to happen when the reports first broke. Nonetheless, Rubio and Chris Christie have been especially at odds with each other over their respective attendance records recently, and the senator has long attempted to dismiss concerns about his record by saying that his votes are irrelevant in the face of the Obama administration's leadership (or lack thereof).
Alex Burgos, a spokesman with Rubio's Senate office, told The Hill that Rubio will soon return to Washington.
"Senator Rubio will be in Washington tomorrow to receive a classified intelligence briefing from intelligence staff on North Korea and other issues, and to participate in a classified Intelligence Committee meeting on terrorism," Borgos said.
UPDATE –– 7:48 pm EST: A Rubio spokesperson told Mediaite tonight that the senator ended up attending the briefing after calling off the fundraiser.
[Image via screengrab]
— —
>> Follow Ken Meyer (@KenMeyer91) on Twitter
Have a tip we should know? tips@mediaite.com