Food Network's Mario Batali Dares Abortion Rights Foes to Boycott His Restaurants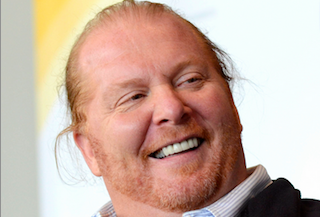 Food Network star and restaurateur Mario Batali created a social media stir earlier this week when he tweeted his support for the Sarah Silverman/Lizz Winstead co-hosted "Clear Eyes, Full Hearts, Can Choose" telethon, then responded to attacks by abortion rights foes and other critics. Batali eventually signed off from the fight on Tuesday, but the Twitter onslaught continued Wednesday, when the Iron Chef took the unusual step of encouraging foes of abortion rights to boycott his restaurants.
Chef Batali was already putting his money where his mouth is when he tweeted "Hello Americans i am happy to match your donations for the next 30 minutes up to 5 grand in support of @TXWomenForever C'mon !!!!!"
He spent a good bit of time, Monday and Tuesday, retweeting his critics, while adding his own cheerful commentary:
I'm trying to help raise awareness AND money!! RT. @Quiara: @Mariobatali @niais @TXWomenForever Why not just donate $5k?"

I'm for personal choice! RT. @KristiLuvsJesus: @NARAL Abortion is murder!! You claim to be for women; but what about unborn women??"

I think you need a nap it's pro choice. Bubye RT. @PolitiBunny: Pro-death is pro-woman? That's offensive. @jenjohnsonann @Mariobatali"

You seem successful and delightful! RT. @USSANews: Pro choice? Then choose to eat a carrot once in a while you fat fuck. Just sayin…"

Thx for the tip, I imagine you could give me even more life advice RT. @Pambeaux:@TXWomenForever Stay in the kitchen and out of politics."
Batali finally got back to the rest of his life, tweeting on Tuesday, "signing out for now but you all keep trying to pick a fight. I'll be back to describe freedom every day and tell you why I believe in it!"
On Wednesday, though, Chef Batali responded to a potential boycott by broadcasting it, and encouraging it: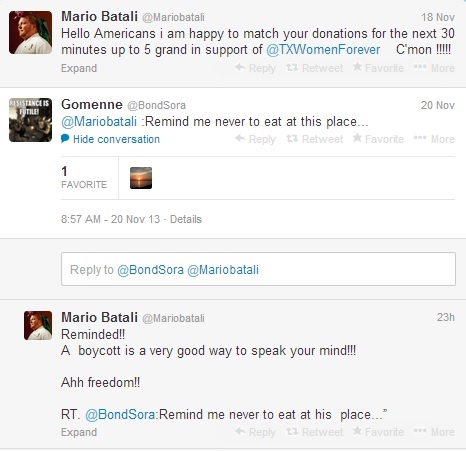 Reminded!! A boycott is a very good way to speak your mind!!! Ahh freedom!! RT. @BondSora:Remind me never to eat at his place…"
Chef Batali is the owner of fourteen restaurants in cities around the world.
Batali continued to do battle with critics Thursday morning:
Another dude in charge of women's rights? RT. @Texas_Frog: Freedom to kill your unborn child? Good for you, you Croc-wearing lard ass."
This isn't the first time Chef Batali has become the subject of political ire. In May, a Fox News host said he'd like to "slap around" Chef Batali over his promotion of the "Food Stamp Challenge," a campaign to raise awareness about hunger by having he and his family live on a food stamp budget for a week, about $1.48 per meal. Chef Batali is also the founder of the Mario Batali Foundation, a charity that fights childhood hunger.
[photo via Wikimedia Commons]
Have a tip we should know? tips@mediaite.com