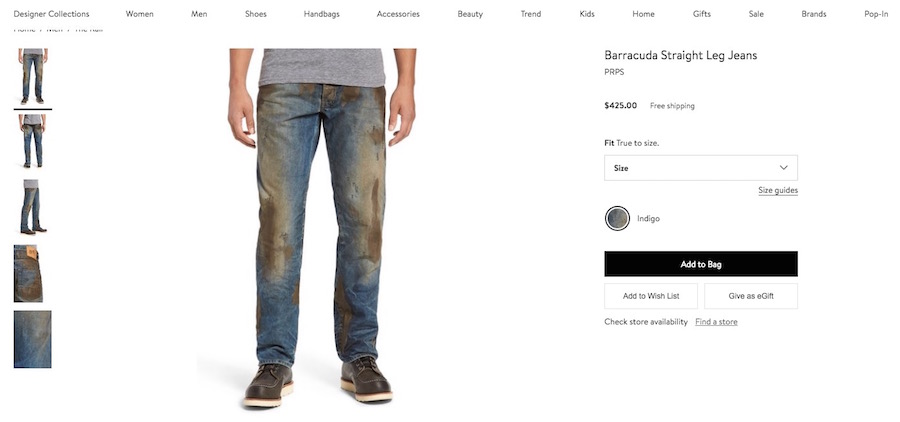 If you have $425 burning a hole in your pocket and are looking to purchase some new fashion for spring that will make you look like you've slipped on a rainy day at a music festival, look no further. Nordstrom has you covered. The "Barracuda Straight Leg Jeans" are described as "Heavily distressed medium-blue denim jeans in a comfortable straight-leg fit embody rugged, Americana workwear that's seen some hard-working action with a crackled, caked-on muddy coating that shows you're not afraid to get down and dirty."
So… they show you're not afraid to get "down and dirty," even though you spent $425 just so that you won't have to actually get "down and dirty" in them.
Mike Rowe, host of Dirty Jobs, took to Facebook to absolutely skewer the pants, saying, "Finally – a pair of jeans that look like they have been worn by someone with a dirty job…made for people who don't. And you can have your very own pair for just $425.00."
"They're not even fashion," he argues. "They're a costume for wealthy people who see work as ironic – not iconic." Fair point.
Of course, the Internet had a lot to say about them. It seems Nordstrom has removed the reviews, but at least one Twitter user got a screengrab of some of them. They're pretty much what you'd expect, with one reviewer asking, "Is this a joke?" Someone else wrote, "These are great! Now that I'm unemployed I can still look employed with minimal effort."
@Nordstrom has these ridiculous jeans for sale! I got a screen shot of some of the reviews, they're ?!https://t.co/VgSAy0wIBj pic.twitter.com/bu4oKnOZZq

— Dustin Leer (@leerdustin) April 25, 2017
People also sounded off on Twitter:
Imagine being so rich you buy your mud from nordstrom

— Mazel Tov Cocktail (@AdamSerwer) April 25, 2017
@Phil_Lewis_ For only $425 you can now look like a working class person! @Nordstrom Mr. Mugatu would be proud! #bluecollarchic

— Mitchell Geere (@MitchellGeere) April 25, 2017
Nordstrom selling jeans covered with fake mud for $425. Why not get $15 Costco jeans and go roll in the garden or a field???

— Steve Shank (@SteveCShank) April 25, 2017
Correction… @Nordstrom WANTS to sell fake mud jeans for $425. CYA in the clearance rack in August xo https://t.co/wKMcDqG9Dm

— Stephanie Ruhle (@SRuhle) April 25, 2017
$425 for some jeans!? Idc if they have mud or not!!! Go home Nordstrom, your drunk

— _JNTHN (@JT_WRECKS) April 25, 2017
Filed under "Things I thought I'd never see for sale": fake mud jeans for $425 by Nordstrom pic.twitter.com/zdvEW8ONxo

— MicahGoulart (@micahgoulart) April 25, 2017
[featured image via screengrab/Nordstrom.com]
Have a tip we should know? tips@mediaite.com