So Much for GOP Overreach: Dems Benghazi 'Truth Squad' Politicizes Investigation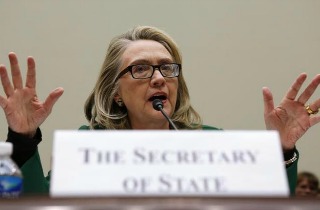 Nothing says "objective and apolitical search for the truth" like a campaign-style rapid response operation. That is, however, just one of the aggressive and partisan tactics Democrats plan to embrace ahead of the formation of a select committee to investigate the Benghazi attack.
For weeks, partisan Democrats have claimed that Republicans pushed for the formation of this committee solely in order to discredit former Secretary of State Hillary Clinton ahead of a likely 2016 presidential bid. Well, now they are treating the committee like a political operation, going so far as to tap former special counsel to President Bill Clinton, Lanny Davis, to head a counter-spin taskforce. They're calling it "The Truth Squad."
Davis claims that no Democratic campaign or candidate is backing him, and he is going out on his own in establishing this counter-committee. He plans on setting up camp outside the Benghazi hearing room and, in conjunction with a group called Correct The Record 2016, will merely attempt to counter what he perceives to be misinformation disseminated by the committee.
A quick glance at Correct the Record's homepage reveals rather clearly that the organization is a pro-Hillary Clinton campaign operation. The group also discloses that it is "Paid for by American Bridge 21st Century PAC," a Super PAC formed by Media Matters for America founder David Brock and funded by both individuals and high-dollar Democratic donors.
The press and the political class are convinced Republicans will alienate voters if the Benghazi proceedings come to be perceived as an overtly political exercise — an eventuality many believe is inevitable. The GOP is on the receiving end of a deluge of well-meaning advice on how they must comport themselves in this investigation: sober, prosecutorial, and displaying an excess of restraint. Indeed, heading into this investigation, the polls show that the public does not trust that Republicans' motives are pure.
Is that a two-way street? Democrats in Congress have thus far dithered on whether they are even going to participate in the investigation. Some Democrats are lobbying the House leadership to send one representative, the notorious partisan bomb thrower Rep. Alan Grayson (D-FL), with the aim of derailing the hearings. Now, a pro-Hillary 2016 campaign group is establishing a blatantly partisan response operation aimed, one would have to imagine, at absolving the former Secretary of State of fault for a lack of preparation for that attack and the subsequent misleading of the public of its impetus.
Do Democrats have to worry about being perceived as political actors in this investigation, or is that a burden that only Republicans must shoulder?
The press is comfortable in the idea that there is nothing to these Benghazi hearings, and all the questions "have been answered." Democrats better hope they are right. Because if any new information about the 2012 attack emerges, as it did three weeks ago following a FIOA request, the Democratic Party and it's prospective 2016 nominee will have to explain to the public why they treated this investigation like a game.
[h/t NRO]
[Image via Kevin Lamarque / Reuters]
— —
>> Follow Noah Rothman (@NoahCRothman) on Twitter
Have a tip we should know? [email protected]