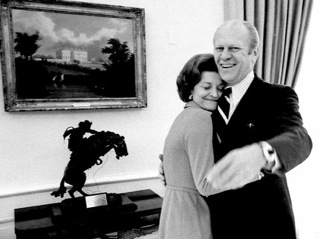 Sources close to her confirmed late last night that First Lady Betty Ford, widow of President Gerald Ford, passed away at age 93 in Palm Springs, California. Ford rose to become one of the most popular modern first ladies in part due to her support of women's rights causes at the time and her work towards acceptance of substance abuse as an illness and the world of the Betty Ford Center.
The New York Times' lengthy obituary for Ford details how she rose to popularity after her husband replaced Richard Nixon after the latter's resignation, and highlight her victories against cancer and substance abuse:
The country's affection for Betty Ford transcended party lines. It began in earnest slightly more than two months after Gerald Ford became president in August 1974, following President Richard M. Nixon's resignation over Watergate. Mr. Ford had been vice president for less than 10 months, named by Nixon to succeed Spiro T. Agnew, who had resigned in disgrace over accusations of bribery and tax evasion. On Sept. 28, 1974, Mrs. Ford had a radical mastectomy after doctors discovered cancer in her right breast.

Few first ladies have been as popular as Betty Ford, and it was her frankness and lack of pretense that made her so. She spoke often in support of the Equal Rights Amendment, endorsed legalized abortion, discussed premarital sex and revealed that she intended to share a bed with her husband in the White House.
Perhaps Ford's most lasting contribution to American life was her decision to become an advocate for mental health and drug dependency, after admitting to a bout of drug abuse herself. The Betty Ford Center, which helps patients cope with alcohol and drug abuse, now boasts more than 90,000 alumni– including celebrities like Elizabeth Taylor and Liza Minnelli— and thousands still are being treated per year.
Below, via the C-SPAN online video archive, a talk Ford did with Rosalynn Carter on mental health and substance abuse (C-SPAN also has a longer talk Ford conducted about her years in the White House on their front page):



[Photo via NYT]
Have a tip we should know? tips@mediaite.com