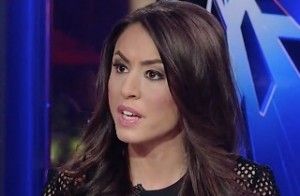 Another former Fox Newser is coming forward with allegations of sexual harassment with Roger Ailes, and it's another high-profile female host who parted ways with the network this year.
Andrea Tantaros has not been on Fox News since April. At the time, Fox said there was a contract issue that led to her being kicked off the air, supposedly on a temporary basis. (This was announced a day after her new book was released.)
Well, according to New York Magazine's Gabriel Sherman, not only is Tantaros saying she made senior Fox executives aware of Ailes sexually harassing her, but she was allegedly taken off the air after she came forward.
Her lawyer Judd Burstein directly told Sherman, "I believe it's retaliatory."
Here's what Tantaros is alleging:
According to Tantaros's account, Ailes began harassing her on August 12, 2014. During a meeting in Ailes's office, Ailes allegedly asked Tantaros to do "the twirl" so he could see her figure. She refused. Then, in mid-December of that year, Ailes made another advance, Burstein says. "Ailes asked her to turn around, and then he said, 'Come over here so I can give you a hug.'" Tantaros rebuffed the advance, Burstein says.

In February 2015, Tantaros was pulled off the 5 p.m. program The Five and demoted to working full-time on the midday show Outnumbered. In February 2015, according to Burstein, Ailes allegedly harassed Tantaros again in his office, asking about her workout routine because her body "looked good" and mentioning that she must "really look good in a bikini."
She claims that after she filed a complaint in April 2015, Fox News executive vice president Bill Shine "allegedly told her, 'Roger is a very powerful man,' and that she 'should not fight this.'"
Fox is disputing this and claiming that Tantaros was suspended because she allegedly violated company policy by not letting them vet her book.
And considering that so many other women have spoken out already, Tantaros' lawyer says, "She doesn't have the same fear of being attacked by the Fox PR machine, and the Murdochs have made it clear they want to clean up the place."
UPDATE – 08/09/16: Through an spokesperson, Fox News Senior EVP of Programming Bill Shine said "Andrea never made any complaints to me about Roger Ailes sexually harassing her."
[image via screengrab]
— —
Follow Josh Feldman on Twitter: @feldmaniac
Have a tip we should know? tips@mediaite.com
Josh Feldman - Senior Editor