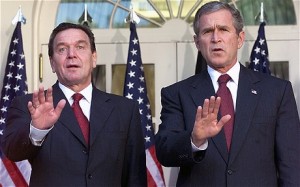 Looks like there are still a few interesting news nuggets to be mined from Decision Points, George W. Bush's bestselling memoir. In the book, the former president claims that then-Chancellor of Germany Gerhard Schroeder told Bush that his country would be behind an invasion of Iraq, then reneged on his promise. Schroeder, though, sees things differently—and tells The Telegraph that Bush is "not telling the truth" about what happened between the two world leaders.
According to Bush, after he told Schroeder in 2002 that he might invade Iraq, this is how Schroeder responded: "What is true of Afghanistan is true of Iraq. Nations that sponsor terror must face consequences. If you make it fast and make it decisive, I will be with you." Later, he writes that Schroeder's backpedaling was a betrayal: "Once that trust was violated, it was hard to have a constructive relationship again."
Schroeder acknowledges that he did initially tell Bush he would "stand reliably on the side of the U.S." if the Americans could prove that Saddam Hussein was harboring terrorists responsible for September 11. But the former chancellor also says that he did not break his word because of disloyalty:
"But this link [between Iraq and the Sept. 11 terrorists], as it became clear during 2002, was false and contrived. This goes for reasons [for the invasion] given by Bush and [then vice-president Dick] Cheney too.

"As we know today, the Bush administration's reasons for the Iraq war were based on lies."
Schroeder's top foreign policy official, Dieter Kastrup, also supports his former boss, saying that Schroeder "in no way" declared "anything that could be understood by Bush as a charter to start a war against Iraq with German assistance."
And Uwe-Karsten Haye, Schroeder's spokesman in 2002, had even more devastating words for President Bush at the time. "We noticed that the intellectual reach of the president of the most important nation at the time was exceptionally low," he said. "For this reason it was difficult to communicate with him. He had no idea what was happening in the world. He was so fixated on being a Texan. I think he knew every longhorn in Texas."
Low blow, Uwe. Low blow. Read the story in its entirety at The Telegraph.
Have a tip we should know? tips@mediaite.com