Former National Security Council Member Trends on Twitter After Scathing NYT Rebuke of Bannon
Michael Mullen has a harsh critique of Steve Bannon  called "I Was on the National Security Council. Bannon Doesn't Belong There." tucked into the opinion section of the New York Times today and the reception was good enough that it started trending on Twitter.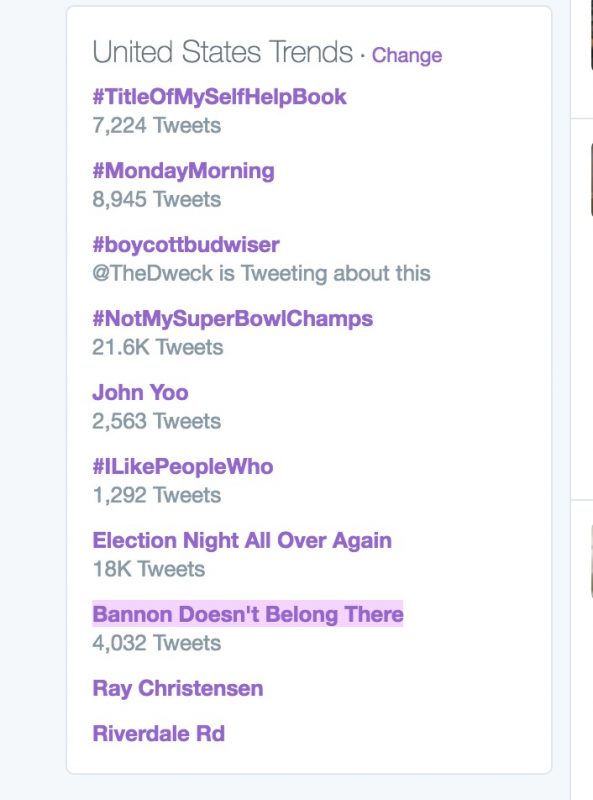 Bannon, who is represented on Saturday Night Live by an actor dressed as the Grim Reaper, is on Donald Trump's National Security Council, but reports indicate that Trump didn't even realize that he had signed an Executive Order making it so.
Regardless of if Trump knew he was signing Bannon onto the council, there was swift backlash against the decision to put the former Breitbart ringleader in such a position. Nancy Pelosi, for instance, seethed, "What's making America less safe is to have a white supremacist named to the National Security Council as a permanent member while the Chairman of the Joint Chiefs and the Director of National Intelligence are told, 'Don't call us, we'll call you.'"
Now, Mullen is taking a shot at the man's appointment, too. After first advising Trump's administration tom make the chairman of the Joint Chiefs of Staff or the director of national intelligence permanent members of the principal committee, he said this:
The second much needed adjustment to Mr. Trump's arrangement of the council is the removal of Mr. Bannon from the principals committee. Putting aside for a moment Mr. Bannon's troubling public positions, which are worrisome enough, institutionalizing his attendance threatens to politicize national security decision making … Having Mr. Bannon as a voting member of the principals committee will have a negative influence on what is supposed to be candid, nonpartisan deliberation. I fear that it will have a chilling effect on deliberations and, potentially, diminish the authority and the prerogatives to which Senate-confirmed cabinet officials are entitled. They, unlike Mr. Bannon, are accountable for the advice they give and the policies they execute.
Go here to read it.
Have a tip we should know? tips@mediaite.com