Former Republican Presidential Candidate Rick Perry Reveals His Official 2016 Endorsement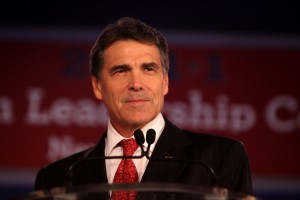 It was over four months ago when former Texas governor Rick Perry became the first 2016 nominee to withdraw from the presidential race. While it has been a mystery since then as to who he would throw his support to, he announced last night that his vote was for fellow Texan Ted Cruz.
"Of those individuals who have a chance to win the Republican primary, at this juncture, from my perspective, Ted Cruz is by far the most consistent conservative in that crowd," Perry said to Politico. "And that appears to be down to two people."
Perry's comments most likely come as a reference to the polls showing Cruz nipping at the heels of Donald Trump. While the mogul received a major endorsement from Sarah Palin last week, Cruz won Glenn Beck's support in an effort to make up the difference with Evangelical support before the Iowa caucus.
During the interview, Perry seemed confident that Cruz's principles would enable him to take action right away, despite his rocky relationship with the Senate.
"You'll have with Ted Cruz that same result of, senators and others in the Washington establishment that are mad at him, find him to be hard to work with, they will find a way to work with him because they know he means what he says he means," Perry said. "He knows he's going to surround himself with people who do have that experience, and I'm very satisfied that on Day 1, he will be ready to be commander-in-chief."
[Images via screengrab]
— —
>> Follow Ken Meyer (@KenMeyer91) on Twitter
Have a tip we should know? tips@mediaite.com