A gunman opened fire at two military facilities in Chattanooga, Tennessee earlier today. Officials confirmed that five people were killed in the shooting––four Marines and the gunman.
Reports say that this as-of-yet unnamed shooter opened fire at a military recruitment facility in Chattanooga, then drove a few miles to a Navy and Marines reserve center and opened fire there as well.
There have been reports of injuries, including one officer being shot, and witnesses described the horror they saw:
Witnesses said a man sprayed bullets at the glass doors of a military recruiting center at a strip mall on Lee Highway… Gina Mule, a server at a restaurant, said she saw a man who'd been in a silver convertible Mustang, firing a "high-powered rifle" at the recruiting offices at about 10:50 a.m.

She said she first heard "Pow, pow, pow!" She then went to a window, through which she said she saw the man firing shots.

"I don't know how many shots he fired, but it was a lot," she said.
During a press conference this afternoon, a U.S. attorney said the shootings are being investigated as domestic terrorism for the time being. The FBI will be leading an investigation into the shootings.
Update- 4:11 pm EST: Reports have ID'd the shooter as Muhammad Youssef Abdulazeez.
Update- 4:17 pm EST: The injured officer has also been ID'd:
BREAKING: The name of the #Chattanooga Police Officer who was injured today is Dennis Pedigo. He was shot in the ankle, and is stable.

— Chris Cannon (@NC5_ChrisCannon) July 16, 2015
And Secretary of the Navy Ray Mabus released a statement on the shooting this afternoon:
Today, the Navy and Marine Corps team collectively mourn the loss of four heroes. The tragedy in Chattanooga is both devastating and senseless. On behalf of the entire Department of the Navy family, I offer my deepest condolences to the families of those killed and wounded in service to our nation during this incident.

Throughout history our Sailors and Marines have served overseas, in harm's way, and the men and women of the Navy and Marine Corps have experienced the deep and lasting pain of combat loss. Today, here at home, we once again feel that pain.

While we expect our Sailors and Marines to go into harm's way, and they do so without hesitation, an attack at home, in our community, is insidious and unfathomable. As the investigation unfolds, our priority will be to take care of the families of those affected.

I'd like to express my gratitude to the first responders on the scene whose prompt reaction was critical to stopping this individual from inflicting further violence.

Though we can never fully prevent attacks like this, we will continue to investigate, review and guard against future vulnerabilities and do everything in our power to safeguard the security of our service members and their families.
Update- 5:47 pm EST: Multiple news outlets have released Abdulazeez's mugshot: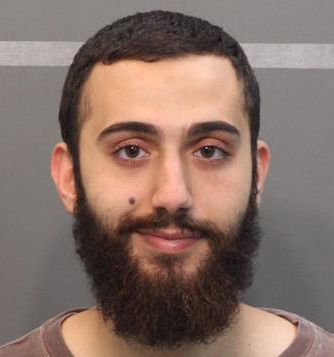 Below you can see photos taken from where the shootings took place:
LATEST: Police officer shot at U.S. Naval Reserve Center in Chattanooga, Tennessee http://t.co/N13tWSRb5x pic.twitter.com/ntA7nG8aMY

— NBC Nightly News (@NBCNightlyNews) July 16, 2015
#Chattanooga shooting: News conference expected soon in wake of shooting at military sites http://t.co/60ljXtZdvS pic.twitter.com/0uWch2gqFo

— CNN Breaking News (@cnnbrk) July 16, 2015
Prayers for Chattanooga! https://t.co/r0ZHeeD8pI pic.twitter.com/I0puX8jGos

— Greg Jennings (@GregJennings) July 16, 2015
WATCH LIVE: We're awaiting a news conference regarding the shootings in #Chattanooga http://t.co/1MdYUtcQLs pic.twitter.com/tUfZBuUx1y

— CBS 21 News (@CBS21NEWS) July 16, 2015
US official to AP: 5 dead, including 4 Marines and a gunman, in Tennessee shooting http://t.co/CU4xNb4RTb pic.twitter.com/aMsArnK9Uj

— Business Insider (@businessinsider) July 16, 2015
READ MORE: Shooter deceased, at least 2 Marines & 1 police officer wounded in Chattanooga, TN http://t.co/bCk5IKgvEm pic.twitter.com/Dj8h8htphr

— CBS Evening News (@CBSEveningNews) July 16, 2015
EXCLUSIVE: Images from #Sky5 showing suspects car used in #ChattanoogaShooting – he had several weapons @NC5 pic.twitter.com/lI341Qp8Iu

— Chris Conte (@NC5_ChrisConte) July 16, 2015
Several Local News Outlets Reporting 4 Marines Were Killed In #Chattanooga Shooting – http://t.co/c5idNH2ckd pic.twitter.com/1z9yqzm12v

— Breaking911 (@Breaking911) July 16, 2015
You can watch WRCB's live coverage here:
WRCBtv.com | Chattanooga News, Weather
[featured image via WRCB]
— —
Follow Josh Feldman on Twitter: @feldmaniac
Have a tip we should know? tips@mediaite.com
Josh Feldman - Senior Editor