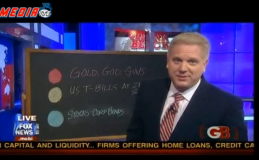 Are Glenn Beck's gold-digging days coming to an end? It would seem even Fox News is losing patience with the questions over Beck's status as paid spokesman for Goldline International, which sells gold coins, and his habit of devoting time on his show to expounding on why gold is a good investment (video below).
Now, according to the New York Times, Fox has sent a letter to Beck's people "seeking clarification." Whether or not they'll get it seems to be another matter. However, it does appear that Beck and/or Goldline have gone so far as to remove the "paid spokesman" label that accompanied his commercials and replaced it with "radio sponsor." Additionally, Fox News has released a statement saying "Fox News prohibits any on-air talent from endorsing products or serving as a product spokesperson."
Did the timing of all this have anything to do with last week's Daily Show excoriation? The Times' Bill Carter appears to think it might, though Fox says the letter was sent beforehand. Media Matters has also been on the case for a while. Also, it's hard to miss the very subtle snark in this graf:
Fox News stressed that it was not aware that Mr. Beck was listed on the Internet as a paid spokesman. But he definitely was, until very recently. On cached editions of the Goldline Web site over the last week to 10 days, a photograph of Mr. Beck was accompanied by an asterisk which led to a line at the bottom of the site that read: "paid spokesman."
But he definitely was. Ha. Of course, none of this controversy has kept Beck from talking gold (or God, or guns for that matter) on his nightly show. Behold this segment from Friday's show where Beck talks about the safety of "hunkering down" (gold, God, guns etc) which leads into a promo for Goldline, a sponsor of the show. Draw your own conclusions (which presumably is what Goldline is hoping you will do). Video below.

Have a tip we should know? tips@mediaite.com