Fox Nation Re-Dubs President Obama's Birthday Party A 'Hip-Hop BBQ' (Updated)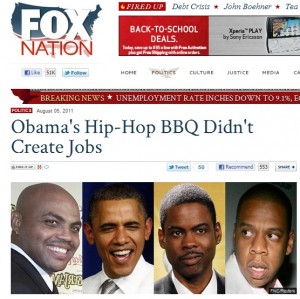 Riddle me this: What do you call a 50th birthday party dinner for the leader of the free world, held in the Rose Garden of the White House, and featuring musical performances by music legends like Herbie Hancock and Stevie Wonder? Well, if you're an editor at Fox Nation, you call it a "Hip Hop BBQ," and you blare in your headline, without any factual basis, that it "did not create jobs."

The Fox Nation headline is attached to a repackaging of a Politico Playbook item that makes no mention of jobs or job creation, and only scant mention of hip-hop. (They lift the entire item, by the way, without even linking to it. They throw a link to a different Politico item at the end.)
So, what was so hip-hoppy that the editor of Fox Nation turned the Rose Garden into the set of Soul Plane? Here's how Politico described the President's party:
The evening began with chicken, ribs, hamburgers, hot dogs, pasta and salad in the Rose Garden, and then four kinds of pie: apple, peach, huckleberry and cherry. At the end of the dinner, irst lady Michelle Obama and daughters Malia and Sasha presented the president with a cake before the party moved indoors.

In the East Room, performers included R&B singer Ledisi, jazz musician Herbie Hancock and Wonder. The president encouraged everyone to dance — and they did. Lots of kids were on hand and they stole the show as they danced in the center of the East Room.
In fairness to Fox Nation, Jay-Z was there, and the DJ reportedly played "Motown, hip hop, and '70s and '80s R&B."
By those standards, I suppose we could now call Fox Nation a "Hip-Hop Website!" I mean, they've got a picture of Jay-Z on there, right?
Almost as silly was the FN editor's other shot at the President's birthday party. Despite no support for the claim in Politico's story, the headline claims President Obama's party "did not create jobs." In fact, it probably did. As I learned when I was reporting on another right-wing Obama food freak-out, these sorts of White House events are paid for out of the President's own pocket, and that much private sector spending has a better chance of causing job growth than not. In any case, if you're going to put that in the headline, it's kind of on you to prove it.
Update: Fox's statement to Yahoo's The Cutline below:
Bill Shine, Fox executive vice president of programming in charge of the Fox Nation site, defended the decision in a statement to The Cutline: "We used the hip-hop reference per Politico's Playbook story this morning which stated 'Also present: Chicago pals, law-school friends, donors–and lots of kids of friends, who stole the show by doing dance routines to the hip-hop songs, in the center of the East Room.'"

The network has shut off further comments on the article, which were becoming incendiary.

"We found many of the comments to be offensive and inappropriate and they have been removed," Shine said.
Have a tip we should know? tips@mediaite.com