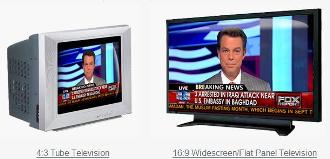 If you've been watching Fox News today (and we know someone at the New York Times is), you've probably noticed it looks a little different. The chyron type is much larger, and the screen may look stretched.
That's because today Fox News became the first cable news network to broadcast in 16:9, widescreen format only – to all SD and HD TVs.
How does this work? Broadcasting & Cable breaks it down today:
The network has decided to produce all of its programming in high-definition using the 16:9 aspect ratio, and deliver a downconverted, letterboxed version to standard-definition viewers. The cable network has overhauled its camera positions, graphics and editing to accommodate all-widescreen production, and is using Active Format Description (AFD) technology internally to specify how the widescreen HD pictures are downconverted for display on 4:3 aspect-ratio standard-def sets.
Fox News has been teasing the move all day today, and directing its viewers to Foxnews.com and a separate section about what the transition means for them. From the site:
Now, all of our viewers get to watch our channel in the widescreen format. Settings on your television may need to be adjusted to properly view our new telecast. Learn more about setting your TV for the widescreen format. And don't worry, this in no way changes the way we bring you the news.
Right – just because the words are bigger, doesn't mean you won't be getting your "fair and balanced" news. Glenn Beck may gain a chin, however.
But seriously, Fox News has by far the most viewers of any cable news network, and of course, the most viewers with standard definition TVs. And while it has more young viewers than any other network (25-54 demographic), its viewership has a higher average age than any other as well. What does this mean? There's going to be some confused Fox News fans today.
The Website should help that a bit – that is, if the confused viewer has access to/is familiar with the internet. But the changes are small, and in the end, will benefit everyone. It puts Fox News once again at the head of the pack – not only in the ratings, but now in broadcasting technology.
—–
» Follow Steve Krakauer on Twitter
Have a tip we should know? tips@mediaite.com