Fox News: Karl Rove's Challenging Election Projection Proves His Value To The Network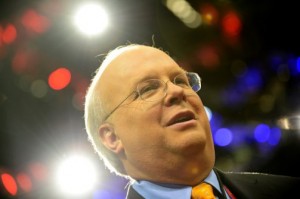 Karl Rove made headlines on election night when he appeared on Fox News and questioned the network's projection that President Barack Obama had secured a second term. While the ensuing on-air discord looked chaotic and messy to many, Fox News hasn't taken issue with Rove.
The incident in question was triggered by Rove's challenging Fox News' projection that Obama had won Ohio, and subsequently, the election. It led to anchor Megyn Kelly marching over to the "decision desk" to sort out the numbers with their analysts.
To the contrary, the Fox News Channel Executive Vice President Michael Clemente said the ordeal demonstrated how valuable Rove is. Per the Associated Press:
Far from an embarrassment, the incident proved Rove's value to the network as more than an analyst, said Michael Clemente, Fox News Channel executive vice president of news editorial.
Clemente further cited a discrepancy between the information that Rove and the decision desk had:
Fox declared Ohio for Obama because its decision desk knew that the uncounted vote at that time in the evening was in areas with overwhelming Obama support. Rove didn't know that, Clemente said. Through his own reporting, Rove saw the actual vote count narrowing to a margin below 1,000 — information the decision desk didn't know at the time.

"It all came out at once," Clemente said. "It would have been easier if it had all come out in some linear fashion, but it didn't."

Rove's information explains why it took the Romney campaign some time after the network declarations to eventually concede the race, he said.
Whatever the case, it put a spotlight on the network's coverage.
Have a tip we should know? tips@mediaite.com