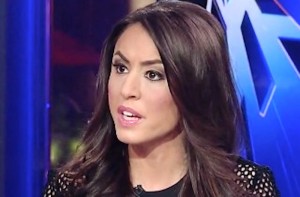 Former Fox Newser Andrea Tantaros has filed a harassment suit against the network, claiming that she was benched in retaliation for speaking out about the harassment.
Today we learned that Tantaros has some questions she wants Roger Ailes, Fox execs, and Bill O'Reilly to answer while hooked up to a lie detector.
In the motion filed by Fox today, obtained by Mediaite, the network starts out with this:
Over the last few weeks, 21st Century Fox (Fox News' parent company) has made clear its commitment to providing a safe and dignified workplace at Fox News: by immediately launching an investigation in which women were encouraged to report their experiences under conditions of confidentiality, and by committing to make things right with those women who were not treated with the respect that they and every employee deserve. But Tantaros is not a victim; she is an opportunist.
Fox is still insisting that she was let go "for breaching her Employment Agreement by writing an unauthorized book" and says her complaint "bears all the hallmarks of the 'wannabe.'"
Yes, Fox is saying that Tantaros did not, in fact, complain about harassing conduct, and despite saying the investigators at Fox have not contacted her, "her lawyer, Joseph C. Cane, Jr., failed to return a telephone call from the law firm."
And here's the crux of what they want:
Tantaros's complaint is fìlled with falsehoods, but for present purposes, what matters most is that her foundational allegation – that her lawsuit has been properly filed in this Court – is demonstrably wrong. Every claim in Tantaros's baseless complaint is subject to the broad and unambiguous provision in her Employment Agreement governing all disputes arising out of or relating to her employment.' The fact that arbitration may not present the opportunities for public vilification that she and her counsel seem to favor does not excuse ignoring the express terms of her Employment Agreement. This Court should compel Tantaros to proceed in the arbitration proceeding that is already underway.
[image via screengrab]
— —
Follow Josh Feldman on Twitter: @feldmaniac
Have a tip we should know? tips@mediaite.com
Josh Feldman - Senior Editor