Court Rules Fox's Jana Winter Doesn't Have to Reveal Sources in James Holmes Case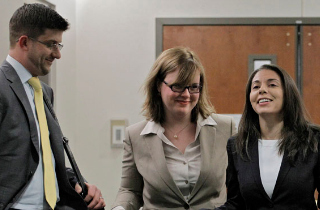 On Tuesday morning, New York's top court ruled that FoxNews.com reporter Jana Winter cannot be forced by a Colorado court to reveal her sources regarding a major story about the Aurora movie theater shooter.
Voting 4-3 in favor of Winter, the New York State Court of Appeals reversed a lower court order and effectively prevented Winter from having to be subpoenaed by the Colorado court.
"[A]n order from a New York court directing a reporter to appear in another state where, as here, there is a substantial likelihood that she will be compelled to identify sources who have been promised confidentiality would offend our strong public policy," the decision read, according to Fox.
Had the lower court's ruling been upheld, Winter would have been forced to reveal her sources to the Arapahoe County District Court in Colorado, or face jail time. Winter's sources are especially sensitive because the story involved a horrifying notebook the gunman James Holmes sent to a psychiatrist before killing 12 and injuring 70 during a gun rampage at an Aurora movie theater.
Winter had vowed that she would rather go to jail than reveal the sources who provided her with such chilling information.
Full story here.
UPDATE: Below is a statement released by Fox News CEO Roger Ailes:
"Today's ruling is a major win for all journalists. The protection of Jana Winter's confidential sources was necessary for the survival of journalism and democracy as a whole. We are very grateful that the highest court in New York State agreed with our position."
[Image via AP PHOTO/ED ANDRIESKI]
— —
>> Follow Andrew Kirell (@AndrewKirell) on Twitter
Have a tip we should know? tips@mediaite.com