Fox Show Actually Debates Whether Hillary Can Share Blame for Bill's Sexual Misconduct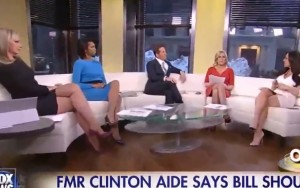 Today the women on Outnumbered went back and forth about recent statements made by Hillary Clinton's 2008 campaign manager, Patti Solis Doyle, on the Clintons' sordid, well-documented history with extramarital affairs.
"What Bill Clinton did in terms of infidelity was absolutely horrible," said Solis Doyle to former presidential Senior Adviser David Axelrod. "What happened between them and their marriage is their business. I think it's its own form of sexism to somehow blame the spouse for what the husband did."
Andrea Tantaros, who has expressed her feelings on the Clintons and her perception of their sexual misconduct in the past, let out a "wow" before turning to the day's "One Lucky Guy" on the panel, Mike Tobin.
"Blaming her I don't think is sexist. I think it's stupid. He did it," proclaimed Tobin. "What are you gonna say? She wasn't fit enough? … Of course he had to meander? That's a crazy point to make. Blaming her for putting her emails on a server, yeah, that's fair. For what her husband does? That's not fair."
Tantaros wasn't content to let Tobin back up Solis Doyle so simply, so she turned to Melissa Francis, who said that the entire interview with Solis Doyle lost credibility when the former aide started waxing poetic as she described the love between the Clintons. Still, she said "most of us agree" that a woman can't be blamed for her husband's cheating, although it is worth mentioning that Hillary Clinton "went on the attack" against the women who were implicated in the various affairs.
Harris Faulkner summed up the way the presidential candidate handled the women at the root of the allegations contrasts with her current platform of defending all women by succinctly calling it "sticky."
[image via screengrab]
For more from Lindsey, follow her on Twitter.
Have a tip we should know? tips@mediaite.com