Amazon Customers Make Erotica Great Again by Making Sexy Trump Novella Top E-Book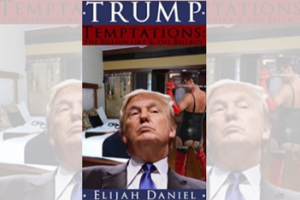 Take a late lunch because I come bearing gifts. GOP frontrunner Donald Trump is no longer just spawning news stories and political blog posts. No, he has moved on to inspiring more exciting strings of words, which is evidenced by the fact that an erotic e-book about the billionaire is sitting pretty in the top spot on a number of Amazon book lists.
"Trump Temptation: The Billionaire & The Bellboy" is a ten-page titillator by 22-year-old comedian Elijah Daniel that is holding down the #1 position in Gay Erotica E-Books, LGBT Books, and Humorous E-Books. It costs $1.99 to purchase but judging by some of the reviews, it is worth the money.
As reviewer Shibby Baby wrote, the tawdry tale is "more compelling than the Bible." Out of 174 votes, 95% of them award the book five stars out of five. Deeper digging reveals that some customers, like Luther Siler, "just want to be the only two-star review."
If you're not interested in groundbreaking literature and don't want to pony up the cash for the trendiest tome of the year, The Washington Post has compiled a few of the best lines from Daniel's debut novella.
From, "my loins trembled as the scent of toupee adhesive and spray tan swept through my nasal cavity," to, "He answered the door wearing only a robe. The robe open just enough for me to see his beautiful saggy chest," this book is full of dreamy imagery that will keep you praying Trump decides to attend the debate on Thursday.
Regardless of if the sex symbol shows his face — which Daniel describes as "wrinkled like a beautiful overflowing flesh toilet" — rest easy knowing that two more installments are in the works.
[image via screengrab]
For more from Lindsey, follow her on Twitter.
Have a tip we should know? tips@mediaite.com